Earlier this year, we took a look at the Rays' roster and showed that outside of David Price, the rest of the core group could potentially have very little change in the next few seasons. But that was when we thought this team was a World Series contender.
Now there is speculation about trading players other than David Price, including Ben Zobrist. And there is Kevin Kiermaier, who has been one bright spot in a bleak season.
First of all, these are the players, that based on status, cost, and contract situation, are whom I believe to be locks for the 2015 roster.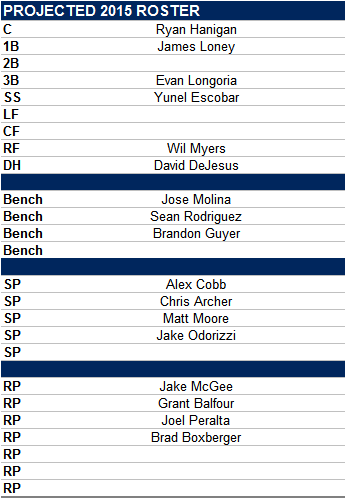 Trading Veterans
The key players missing from this are David Price, Jeremy Hellickson, Ben Zobrist, Desmond Jennings, and Matt Joyce. I would not be surprised if any or all of them are traded before next season.
We all know the Price situation. Jennings will be arbitration-eligible this off-season which means his price is about to go up. In addition, he suddenly looks expendable with Kiermaier playing so well defensively. The Rays may prefer to trade Joyce, but he is more likely to be an additional piece in a bigger deal, much like Wade Davis in the James Shields trade.
Zobrist will likely draw a lot of interest. He has one year left on his contract at what many big-revenue teams would consider a reasonable price ($7.5 million) but what may be a little too much for the Rays to pay a player in his mid-30s with declining production.
As for Hellickson, he is a good pitcher and still relatively cheap. But if you ranked the starting pitchers in the entire organization based on talent, he's not even in the top 10.
Filling the holes
Sean Rodriguez could fill in as part of a second base platoon. Kiermaier could move to left field or center field, with David DeJesus taking the other. That leaves the DH spot open, again.
The Wild Card is Mikie Mahtook who is hitting much better in triple-A than I would have expected and should be a plus-defender with decent speed. But I would be surprised if the Rays were ready to make him a big leaguer on opening day next season.
The Rays have lots of options to fill the final spot in the rotation if both Price and Hellickson are traded. Alex Colome is dominating triple-A in his first four starts since returning from his suspension.
In addition, the Rays have Nate Karns, Mike Montgomery, and Enny Romero in triple-A, all of whom are close to being big league-ready.
As for the bullpen, the last three spots will likely be filled with triple-A pieces or cheap free agents.
That leaves a roster that could look like this, with just bench and bullpen holes to fill.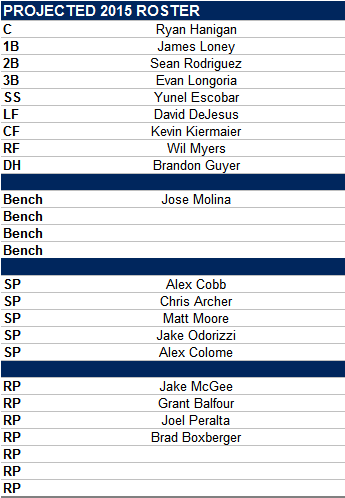 Likes

(

1

)
Dislikes

(

0

)