Entering the 2015 season, shortstops Daniel Robertson and Willy Adames, two players picked up in recent trades, are the top prospects in the Rays' organization
Our top prospects list is a meta-analysis that averages the rankings for the Rays' top prospects from ESPN.com, BaseballAmerica, Baseball Prospectus, MLB.com,and Minor League Ball.
In the science community, a meta-analysis is what we do when we take the work of a bunch of other people and paint a bigger and more accurate picture. In other words, instead of taking the opinion of one expert, we average the opinions of several experts.
Here are the 17 prospects who were listed in the top 10 on at least one list (notes can be seen below)…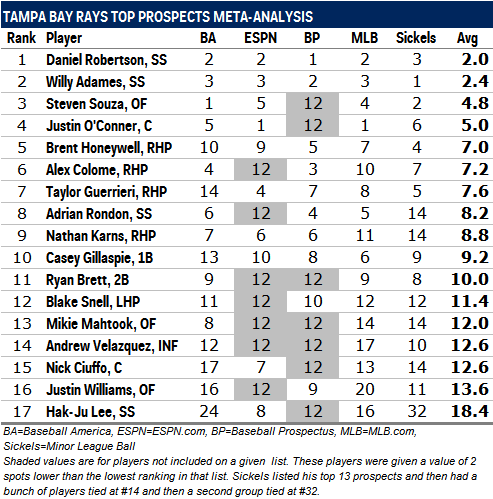 A few notes on the prospects rankings…
Last year, Jake Odorizzi and Hak-Ju Lee were tied as the top prospects. In 2013, Wil Myers was a unanimous selection. This year's rankings are all over the place with 4 different players being ranked No.1 and only Justin O'Conner is at the top in more than one ranking. And yet, O'Conner is not even listed among the top 10 by Baseball Prospectus.
The top 5 prospects and 10 of the top 16 are all new to the list this year, including Daniel Robertson, Willy Adames, Steven Souza, Justin O'Conner, Brent Honeywell, Adrian Rondon, Casey Gillaspie, Mikie Mahtook, Andrew Velazquez, and Justin Williams.
Of the players on the list last year, Jake Odorizzi (1) and Kevin Kiermaier (10) are in the majors and no longer eligible. Minor Leaguers Enny Romero (4), Ryne Stanek (11), Riley Unroe (13), Tim Beckham (14; still eligible), and Jose Mujica (15) fell off the list. Andrew Toles (8) and Oscar Hernandez (16) are no longer in the system.
Of the players who were on the list last year and still eligible this year, none moved up the list.
The final list includes all players that appeared in the top 10 of at least one list. Some players did not appear on every list. For players not on a list, we gave that player a ranking of 2 spots lower than the lowest ranked player in the list for the purpose of calculating the final average.
Likes

(

1

)
Dislikes

(

0

)