For the 2016 season, the Tampa Bay Rays ranked 13th among the 29 Major League Baseball teams that call the United States home, according to new data from Nielsen (via Shadow of the Stadium).
That's a good thing, but it is also a bad sign.
During all the Rays' struggles with attendance and the bashing from other fans and national media that comes with it, the one thing Rays fans could always hold on to was TV ratings. The ratings were strong and it showed that there are plenty of fans and that the Rays just need to find a way to get them to the games more often.
But while the TV ratings are still strong, they are falling and they are falling fast.
This season, the Rays averaged a 2.95 rating in primetime. That translates to 55,000 households. That is way down from 75,000 last year and about half of what the average TV ratings were in 2010 when the Rays averaged 110,000 households per primetime game.
Now consider that attendance for Rays games was below 16,000 each of the past two seasons, for the first time since the Vince Naimoli years.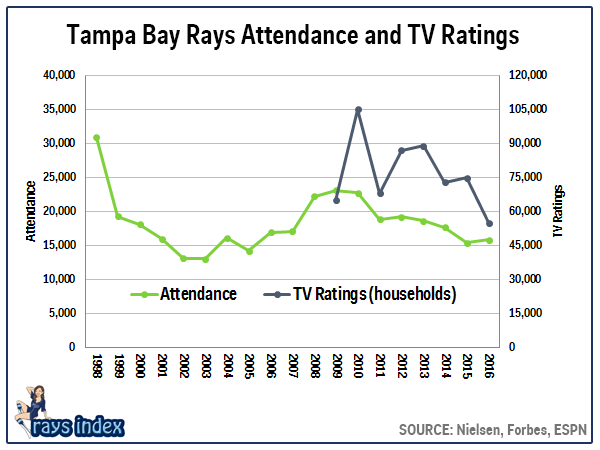 If we consider that the average household includes 2.25 viewers, the total audience size (not including radio) is at its lowest point in at least eight years and has been generally falling since 2010.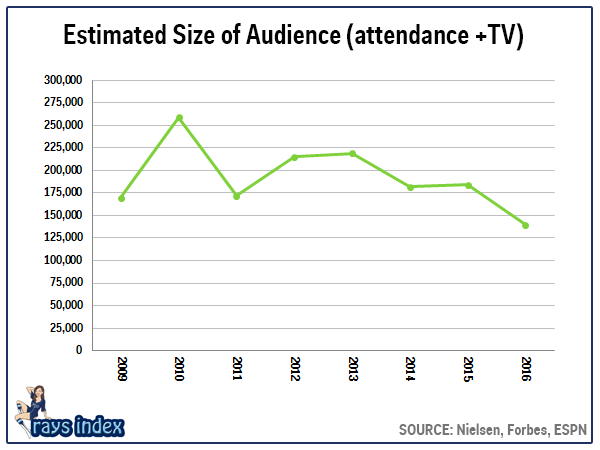 The good news, if you want to call it that, is that we may be nearing the floor.
We have long speculated that no matter how bad things got, that the Rays would still draw at least 13,000 fans each year. The last two seasons suggest that the floor for attendance may now actually be closer to 15,000, although next season will be a true test of that number. Barring some shocking free agent signings, there is little to suggest that this team is guaranteed to be a playoff contender next year.
What we don't know is how far the ratings will fall. We have already seen them nearly cut in half. If the ratings continue to fall, the fans are going to lose their best argument against keeping the Rays in Tampa Bay.
Likes

(

1

)
Dislikes

(

3

)