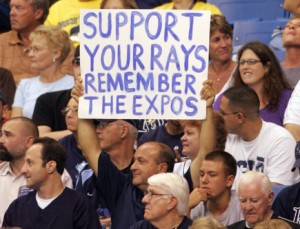 The Tampa Bay Rays have announced a freeze to some ticket prices for the next two seasons, but it comes with a catch and it is all a terrible sign.
According to the Rays, season-ticket holders can now freeze the prices for their tickets for the 2017 and 2017 season at 2016 prices.
This is great … for some.
We don't know for certain how many season ticket holders there are, but it is not many. In 2011, we came up with an estimate of 7,500 season tickets sold. The average season-ticket account has slightly less than three season tickets. So, 7,500 season tickets might represent around 2,800 season-ticket holders who can have their ticket prices frozen.
The deal is also available to new season-ticket accounts. But 2016 prices didn't exactly entice a lot of new ticket sales in 2016. It is not going to entice more in 2017.
More importantly, this ticket freeze is bad news. It means the Rays are almost certainly bleeding season tickets accounts.
The numbers above are from 2011. Those numbers are almost certainly lower in 2016.
In 2011 the Rays' average attendance was 18,878. This year it is 16,150, a drop of 14%. It is safe to assume that season ticket sales have also dropped in that time period.
A similar drop in season ticket sales would translate to a loss of 400-500 season-ticket accounts and ~1,100 season tickets.
We have long talked about how the Rays' biggest attendance problem is season-ticket sales (and more specifically, corporate season-ticket sales). Losing season-ticket accounts at a time when the team has been working so hard to increase the numbers is just another sign that the team needs to get out of The Trop sooner, rather than later.
Likes

(

1

)
Dislikes

(

1

)