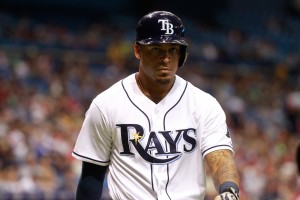 The Desmond Jennings era is over.
On Friday, the Rays released the oft-injured and oft-underperforming outfielder after seven seasons with the club.
Cash spoke about the move, via Marc Topkin of the Tampa Bay Times.
"It was time," Cash said. "Best for him, best for us going forward."
The Rays cited Jennings' inability to stay healthy as a huge factor in the decision, with Cash saying, "we couldn't quite get him on the field as much as we would have liked … We had to make a decision."
But Jennings' lack of production, occasional lack of hustle, and often lack of ability to just make good decisions on the baseball field almost certainly played a bigger factor.
Topkin summed Jennings up the best, referring to his potential as "fool's gold":
"More significant, the Rays can finally let go of the fool's gold hope Jennings would ever maximize the potential of his abundant skills, a ritual they put themselves, and everyone else, through each spring."
The lack of production and the injuries can probably both be traced back to Jennings trying to be something he wasn't: a power hitter.
Prior to the 2014 season, Jennings added size to his frame in hopes of adding power to his game, showing up to spring training noticeably bigger. One writer said at the time that he looked more like a strong safety.
Not only did Jennings not hit for more power, his stolen bases went down and he couldn't stay on the field.
2011-13: Jennings averaged one home run for every 39 plate appearance and one stolen base for every 20 plate appearances.
2014-16: Jennings averaged one home run for every 49 plate appearance and one stolen base for every 40 plate appearances.
Jennings also played in just 216 out of a possible 451 games. That's not good.
And when he did play, even his defense, the one thing that should have been Jennings' strength, was constantly marred by bad decisions and lackadaisical play. You can see both on this inside-the-park home run from earlier this season:
And so it ends. Not with trophies, awards, and a wave to the crowd. But with a form faxed to the league office and a box next to his locker.
The release of Jennings means Evan Longoria is the only significant position player left from the last Rays team to make the playoffs in 2013. Tim Beckham and Kevin Kiermaier also saw brief action with the 2013 team.
Likes

(

0

)
Dislikes

(

0

)