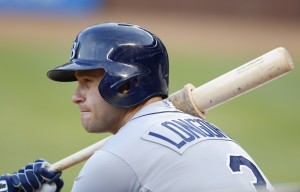 Let the silly season begin!
The Rays are bad. The Rays have a lot of potential trade pieces. So it is natural that just about every good Rays player will be mentioned in trade rumors. That includes Evan Longoria.
Enter Jon Paul Morosi of MLB.com with a column titled "Could Dodgers have interest in Longoria?"
First of all, headlines with a question mark are terrible and lazy. The point of journalism is to answer questions, not raise them. I used to make this mistake when I had no idea what I was doing. I still don't really know what I am doing and I know enough not to use questions for headlines, but I digress.
Morosi says the Rays and Dodgers have had trade talks. He then wonders if Andrew Friedman might target Longoria. Here is the first thing Morosi writes about that possibility:
"Based on information from sources over the past several days, I believe there's a low probability of the Dodgers acquiring Longoria before the Aug. 1 non-waiver Trade Deadline."
Trading Longoria is not that crazy. It is something we have discussed here in recent days. He's playing well. He has a team friendly contract. He is still in his prime years and seems to have become a legit slugger for the first time in his career.
BUT, Longoria is not the type of player the Rays trade during the season. They are more likely to wait until after the season when more teams are bidding and the price goes up. The only good reason to trade Longo now is if he were going to be a free agent (he's not) or the other team decided to overpay (Friedman is not one to overpay in a trade).
Let's get back to Morosi:
"We can't rule out the possibility of Longoria returning to his native Southern California — perhaps as early as this offseason."
First of all, let's ignore for a second that Morosi teased a trade deadline column about the trade of a star player that he freely admits probably won't happen until the offseason, at the earliest. Rather let's focus on how many ways he hedged his prediction in one statement.
"Can't rule out."
"the possibility."
"Perhaps."
"As early as."
Holy trade-rumor Bingo Batman.
I'm now going to rewrite that sentence and it will mean the exact same thing:
"Maybe Longoria will be traded to the Dodgers, or maybe not, I don't know, I'm just guessing, and if it happens, which it might not, it could happen this offseason, or later, or never."
Good rumor.
Likes

(

2

)
Dislikes

(

0

)