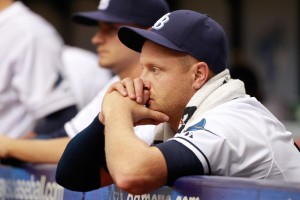 Alex Cobb is inching closer to his return to the Rays, 13 months after having Tommy John surgery, and according to the pitcher, a huge boost has been an under-the-radar pickup the Rays made last November, Chase Whitley.
Whitley was picked up off waivers from the Yankees in November. At the time, it looked like just another buy-low move by the Rays as Whitley was recovering from Tommy John surgery himself. Well it turns out there was another benefit, and it was either stumbled upon on accident or it was pretty ingenious plan hatched by the Rays.
Cobb was recently a guest on the "This Week in Rays Baseball" podcast with Neil Solondz and the pair discussed his recovery from Tommy John surgery and who has helped Cobb the most in the recovery. While Cobb names several pitchers, including Matt Moore, who has gone through Tommy John surgery, Cobb seemed to heap the most praise on Whitley.
Before that, here is why that is interesting: The two pitchers had Tommy John surgery about a week apart in May of last year. With the Rays following a fairly strict and conservative 14-15 month recovery schedule, that meant the two pitchers would be on the same schedule as they work their way back.
In fact, according to Cobb, Whitley thinks that the only reason the Rays signed him was to be a rehab buddy for Cobb.
"We joke a lot — he jokes about it more than I do — but he's convinced that they let me bring him in as my little pet to kind of motivate me and play along with me to keep me focused," Cobb told Solondz. "If every organization could somehow do this or somehow pull this off it would definitely help both of those guys going through it."
Cobb further explained that it is immensely helpful to have Whitley there during the workouts.
"Every day with Chase Whitley, we're working with each other every single day, motivating each other, pushing each other to get better, not just on the throwing aspect, but on the physical aspect of getting stronger, getting better endurance," Cobb said. "That's a huge bonus for me."
In this age of Tommy John surgeries one of the common themes heard when pitchers discuss the recovery is how helpful it can be just to talk to other pitchers who have already gone through the procedure. On the one hand, the 14-15 month recovery can be a lonely existence for an athlete in a sport where you are used to being among teammates everyday for 7-8 months. On top of that, there are the mental hurdles associated with learning to pitch again and the fear of another injury.
The Rays may have come up with a way for their pitchers to better deal with those anxieties.
Likes

(

3

)
Dislikes

(

0

)