The GBT - The Good, The Bad and The Telling sandwich, where The Bad is nice and lean and the The Telling is ripe.
RAYS 7, Twins 5 (boxscore)
THE GOOD: It turns out the Twins were exactly what the Rays and Evan Longoria needed. After the loss on Thursday, it looked like the Rays were destined to lose 3 or 4 of the games in the series. Instead, Longo got hot and maybe as hot as he has ever been. Longoria hit 5 home runs in the series, including 2 on Sunday, and got on base 9 times in 18 plate appearances. But as hot as he was in this series, it actually started before this series. Going back to the Yankees series, Longo has 16 hits, including 6 home runs, in his last 9 games. He has also been on base 19 times in that stretch. In those 9 games alone, his batting average has gone from .254 to .281, his OBP has gone from .302 to .329, and he now ranks 5th in the AL in home runs.
THE BAD: Brandon Guyer is the latest casualty for the Rays, going on the DL with a hamstring injury. Even before that, Guyer had been struggling. He was just 1-22 with 1 walk in his last 5 games before missing a couple of games and then landing on the DL.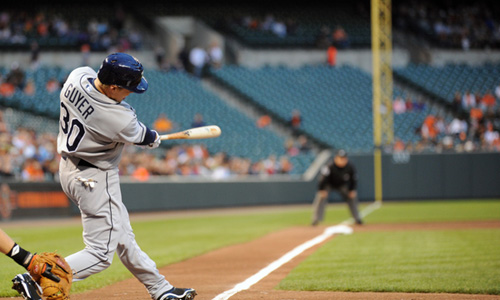 THE TELLING: When Brad Boxberger went on the DL, Tim Beckham was called up. Now with Brandon Guyer on the DL, Nick Franklin is back with the Rays for the first time since last fall. On Sunday, Franklin made his 2016 debut with the Rays, walking as a pinch hitter and then playing left field for the first time in his big-league career. Meanwhile, Beckham started both games over the weekend and went 1-7, including 0-3 with 3 strikeouts on Sunday…The Rays are in the middle of a weird stretch where they will not play any AL East foes for about a month. Starting with the Royals series, the Rays have 22 games against teams in other divisions. Next up is the Diamondbacks…The Rays are now 25-30, 7.0 games behind the Orioles and a half-game behind the Yankees for 4th place…[Durham 9, Gwinnett 0] Blake Snell struck out 9 in 6 shutout innings, giving up 5 hits and 3 walks. His ERA is now 3.14. Johnny Field (his first) and Dayron Varona (7th) both went deep for the Bulls.
THE JUNKYARD DOGS WEBTOPIA…
Likes

(

0

)
Dislikes

(

0

)