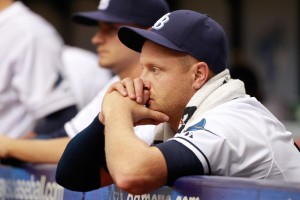 The optimists that look at the 2016 Tampa Bay Rays often point to the depth of starting pitching and how that will only get better in the second half of the season with the return of Alex Cobb. However, Cobb's interview with Martin Fennelly of the Tampa Tribune suggests Rays fans should temper that excitement.
Most reports have been pegging Cobb to return to the Rays after the All-Star game in mid-July. That now sounds overly optimistic and it may actually be 2017 before he truly returns to form.
"You don't want to put a date on it," Cobb told Fennelly. "You don't want to put a date on it, because if things go a little awry in rehab, you don't want to try to push through it. You have to be patient … I'd say after the All-Star Game is reasonable. August-ish is a good timetable."
OK. So maybe July or maybe August or maybe August-ish, which sounds an awful lot like "early September is not out of the question."
To put that in perspective, a mid-August return would mean, at most, 8-9 starts for Cobb this season.
What isn't clear in that maybe-july-maybe-august-who-knows quote is how his rehab assignment fits in that plan. Cobb will almost certainly need a full three weeks of rehab with the Charlotte Stone Crabs and Durham Bulls. Does August-ish include the rehab assignment?
And then there is what we can expect when Cobb does return, which history suggests won't be much.
Last season, Matt Moore returned to the rotation at the beginning of July and didn't find his form until the middle of September. Every pitcher is different, but if Cobb follows a similar progression, he won't really be back to 100% until the end of October, after the season ends.
And then there is Matt Harvey of the New York Mets, who missed the entire 2014 season and went 20 months after his surgery before making another regular season start. He had an up-and-down season last year and now reveals that he is just now getting back to 100%, 2.5 years after blowing out his elbow. For comparison, Cobb is hoping to be back on the mound just 14-15 months after surgery.
So maybe Fennelly said it best:
If the Rays get anything from Cobb in 2016, it would be a bonus. A productive 2017 might be the safer bet.
Likes

(

0

)
Dislikes

(

2

)