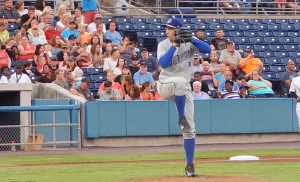 The Tampa Bay Rays placed four players in ESPN.com's annual list of the Top 100 prospects, including 2015 Minor League Player of the Year Blake Snell, who comes in at No. 14.
Joining Snell on the list is right-handed pitcher Taylor Guerrieri (No. 35), right-handed pitcher Brent Honeywell (No. 64), and infielder Daniel Robertson (No. 85). Robertson, a natural shortstop, was part of the trade that sent Ben Zobrist to the Oakland A's. Snell was the 52nd pick of the 2011 draft and Guerrieri was the 24th pick in the same draft.
The Rays had just two players on the list last year, catcher Justin O'Conner (No. 78) and Robertson, who was 83rd a year ago.
Here is what ESPN had to say about Snell:
Snell was my sleeper for the Rays' organization coming into 2015, based on the gradual improvement of his command over the previous season after some quantum leaps in the caliber of his stuff. Snell walked 73 men in 99 innings in 2013, as he was unable to control his newfound arm strength, but walked just 53 in 134 innings across three levels in 2015. He recorded a 31 percent strikeout rate and a 1.41 composite ERA across all three levels, maintaining his success right up through Triple-A. He might have reached the majors had the Rays been contending, but with his innings mounting and the team sliding out of the race, there wasn't a huge argument for him to come up, especially since he had some issues with keeping right-handed hitters off base last year.
Snell will work with three above-average pitches: a 92-94-mph fastball that will touch 96, a very hard-tumbling changeup in the low 80s, and a big, mostly vertical breaking ball that looks as if it comes out of the sky thanks to his high three-quarters slot and ability to stay on top of the ball. His arm is quick and loose, and learning to be disciplined with that arm swing has been the biggest challenge for him. Even without any significant improvement in command or feel for pitching, he's probably a No. 3 starter in the long run, but given the improvements he has made to date, he has a chance to end up as one of the top 10 left-handed starters in MLB.
Here is what they say about Guerrieri:
Guerrieri lost almost two years while recovering from Tommy John surgery, but his command and control seemed to come right back when he did get back on the mound full time in 2015, with only one outing all season in which he walked more than two guys. Guerrieri was 91-94 mph most of the summer, with a plus breaking ball and a changeup that flashed plus. The change is a relatively new pitch for him and he trusts it, but he needs to get more reps with it to get more consistent.
Guerrieri's main problem, other than building up innings, has been some off-field issues that have dogged him since high school. At some point, it starts to say something if you refuse to follow the rules even to the detriment of your professional career. If he can keep himself out of trouble, he has ace upside, which should start to show through more in 2016 when he's no longer limited to five-inning stints.
On Robertson:
Robertson's year was cut off by a broken hamate bone that cost him nearly two months and sapped all of his power even after he returned at the end of July, but once he's fully healthy, he should return to the player he was. Robertson is still playing mostly shortstop but projects better at second base given his limited lateral range, though he does have the hands for shortstop. He has a solid approach at the plate, with excellent hand-eye coordination, and projects to hit for average far more than power. He had to alter his approach after coming back, since he couldn't drive the ball as well after the fracture, but took better at-bats and showed more willingness to work the count in his favor, so there might have been a silver lining to the injury.
He looks like a solid every-day second baseman who hits for average and doubles power, and there might be more OBP skill there than I previously thought.
On Honeywell:
Honeywell was a screwball pitcher in junior college, but the Rays have had him de-emphasize that pitch in favor of the more traditional changeup, which has been a clear out pitch for him so far in pro ball.
Honeywell will touch 96 mph but pitches more at 91-94, without much life on the pitch, so he has to avoid leaving it up in the zone to avoid too much hard contact. The changeup is the separator for him, a pitch that might allow him to be a big-league starter in spite of the lack of movement on the fastball. His breaking ball is more of a functional pitch that he can throw for strikes than a swing-and-miss weapon. He fills up the strike zone and is very confident on the mound. Even after he was hit hard in his first two high-A starts, he didn't flinch, posting a 2.21 ERA over his next 10 outings to close out the season.
His stat line points to a high-ceiling guy, but without a livelier fastball or above-average breaking ball, he's more of a fourth-starter type who should be durable and able to work deep into games.
Likes

(

0

)
Dislikes

(

0

)