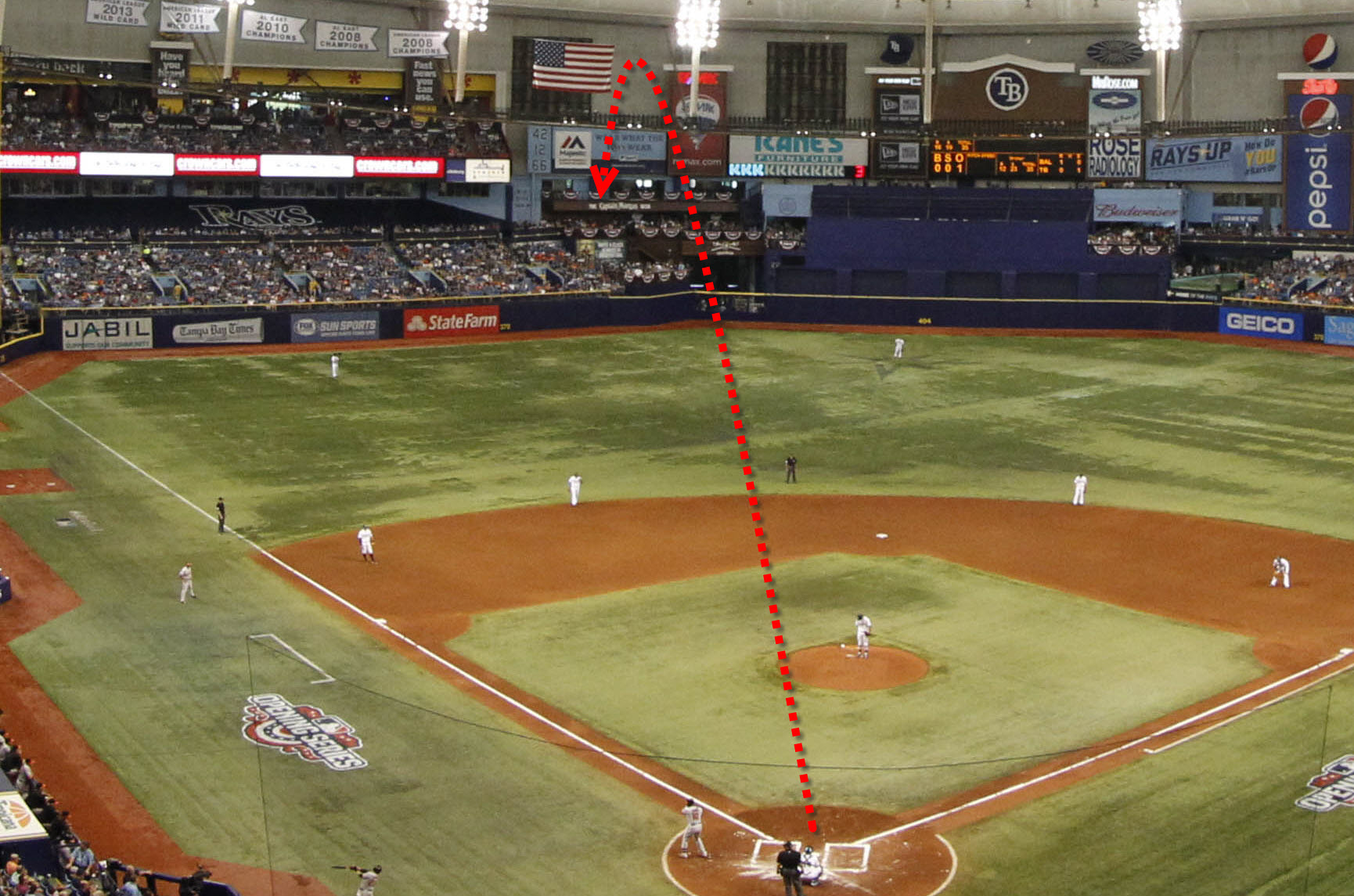 Tim Beckham continues his surprising power surge and the latest is evidence that all these home runs are no fluke.
With the Rays up 4-1 in the 8th inning against the A's on Friday, Beckham launched a ball that didn't land until it hit the Captain Morgan Party Deck in left-center.
According to the ESPN home run tracker, the ball had a "true distance" of 464 feet, the sixth-longest home run hit in MLB this season.
That is a long home run.
Beckham now has 5 home runs in just 85 at bats. Over the course of a full season, that would translate to 30-35 home runs. And keep in mind that Beckham also had a home run robbed by the Blue Jays and had another fly ball hit the top of the wall and bounce back.
But is it a fluke? Beckham has never shown this kind of power before. Only once in seven minor league seasons did he hit more than six home runs in a year and that was 12 back in 2011. On top of that, we've seen tons of hitters get hot and hit five home runs in fewer than 90 at bats. It doesn't mean they are a power hitter.
But this home run is different. Sure, a lot of hitters can hit five home runs. But it takes a special hitter to hit a ball 464 feet.
Take a look at the list of hitters who have hit a home run at least 450 feet this season:
Alex Rodriguez (also at The Trop) — 477 feet
Giancarlo Stanton — 475 feet
Giancarlo Stanton — 474 feet
Josh Donaldson — 469 feet
Giancarlo Stanton — 467 feet
Tim Beckham — 464 feet
Edwin Encarnacion — 463 feet
Steven Souza — 463 feet
Carlos Gonzalez — 461 feet
Starling Marte — 460 feet
Ryan Howard — 454 feet
Giancarlo Stanton — 454 feet
Adrian Gonzalez — 453 feet
Bryce Harper — 452 feet
Mark Trumbo — 451 feet
Evan Gattis — 450 feet
Pedro Alvarez — 450 feet
Joc Pederson — 450 feet
Every other player on that list is either a legit power hitter or a very good hitter or both.
A player can get "lucky" and get a few home runs bunched together. But hitting a ball 464 feet is not the result of luck, it is the result of big-time bat speed.
When a player has legit bat speed, their fly balls travel farther, their line drives are hit harder, and their groundballs get through the infield faster. A player with legit bat speed decreases the amount of area that a defender can defend and still make an out. The hitter will get more hits than a similar player with slower bat speed.
Is Beckham going to be a legit power hitter or a very good hitter or both? Nobody would have predicted that two months ago. Beckham was actually sent back to the minors after the game, a move that was more about numbers than talent. But after seeing what he did last night, maybe it is time to start rethinking what we thought we knew about Beckham.
Likes

(

0

)
Dislikes

(

0

)