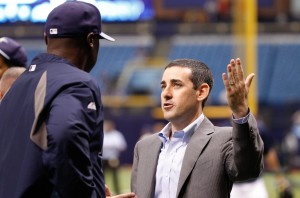 Rays President of Baseball Operations Matt Silverman was a guest on MLB Network's "High Heat" and had some interesting comments regarding the team's continued struggle with attendance.
Buried amongst the other standard Raysian clichés (they have payroll flexibility, getting Desmond Jennings back is like trading for a hitter!, etc.) Silverman was asked if he is "alarmed" by the attendance.
"We always want to see the stands full and when the energy is higher at Tropicana Field our guys play better. At the same time, we try to block that out. When we think about it, we'd rather be first in standings and last in attendance than flipping that around. So our focus is on the field, making sure that we are doing the things we need to do, and blocking out any distractions like that."
The comments are interesting on a couple of levels, not the least of which is that the Rays players have a history of not being able to ignore the attendance. The most famous of which were the comments made by David Price and Evan Longoria in 2010 which sounded orchestrated. More recently, there was Chris Archer taking to Twitter to question why crowds for the Yankees games were so small.
However, the comment by Silverman is also interesting because up until this season, he was the president of the Rays and attendance were under his jurisdiction while Andrew Friedman worried about the product on the field.
The bigger issue here is that the "distraction" is not going away, even when the Stanley Cup playoff ends. It was clear even before the season started that attendance was going to be even worse this year and with more than half the season to go, it is.
Likes

(

0

)
Dislikes

(

0

)