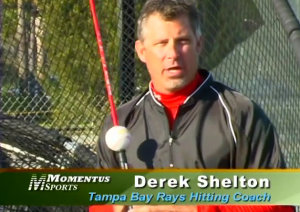 John Jaso continues to rehab from the wrist injury he suffered on opening day when his hand jammed into the second base bag on a slide.
Jaso was a guest on "This Week in Rays Baseball" with Neil Solondz and discussed his slow recovery which still has not progressed to the point of hitting baseballs but does include taking swings with the "The Speed Hitter," a training device endorsed by Rays hitting coach Derek Shelton.
The players call the device a "Shelty Stick":
"As far as the swinging part of the rehab I started off with kind of a lighter object, just like a wooden dowel, kind of like a broom handle and I was swinging that. Then I was swinging the Shelty Stick, we like to call it, his feature you might see on television infomercials and that has kind of progressed into swinging an actual baseball bat, a heavier piece of wood with a heavier head on it, and it has progressed to that the last few days."
Jaso did explain that one reason his injury has taken so long to heal is that it is more than the high ankle-like sprain that has been reported. According to Jaso, a few of the bones in the wrist were also bruised in addition to the ligaments being injured.
As for the Shelty Stick, here is one of the commercials featuring Shelton.
Likes

(

0

)
Dislikes

(

0

)