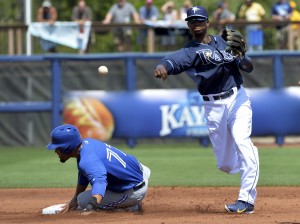 It has been a long time coming, but it appears that former No. 1 overall draft pick Tim Beckham is ready to put the minors behind him for good.
In their recent "Countdown to Opening Day" show, Andy Freed and Dave Wills were discussing how well a few young players looked at the plate in that day's game when Freed summed up how well Beckham has looked this spring:
"[Tim Beckham is] one of those guys right now, he looks like a big leaguer. The question is, he only played what, 16 or so games a year ago and he had the knee injury and various other things. But maybe the time has come for Tim Beckham. It is easy to believe when you see the way he played baseball today."
Beckham has been in the minor leagues for seven seasons, getting only a brief cup-of-coffee with the Rays at the end of the 2013 season when he played in five games in September and got a whopping eight plate appearances.
At times it seemed like Beckham was never going to make it to the big leagues as a regular. But now it looks like he is going to once again prove that only top pitching prospects are a true gamble. That is, there is a real chance that a top pitching prospect never makes it to the big leagues. On the other hand, top position prospects don't always become stars, but they almost always at least become serviceable big leaguers, with the occasional Matt Bush being the rare exception-to-the-rule.
At this point, we have beaten the dead horse that is who the Rays should have taken in 2008 and we have beaten it over and over. Beckham is here now and he is really close to helping the Rays win games. So maybe the Rays deserve some credit for not giving up when other teams would not have had the patience.
Likes

(

1

)
Dislikes

(

0

)