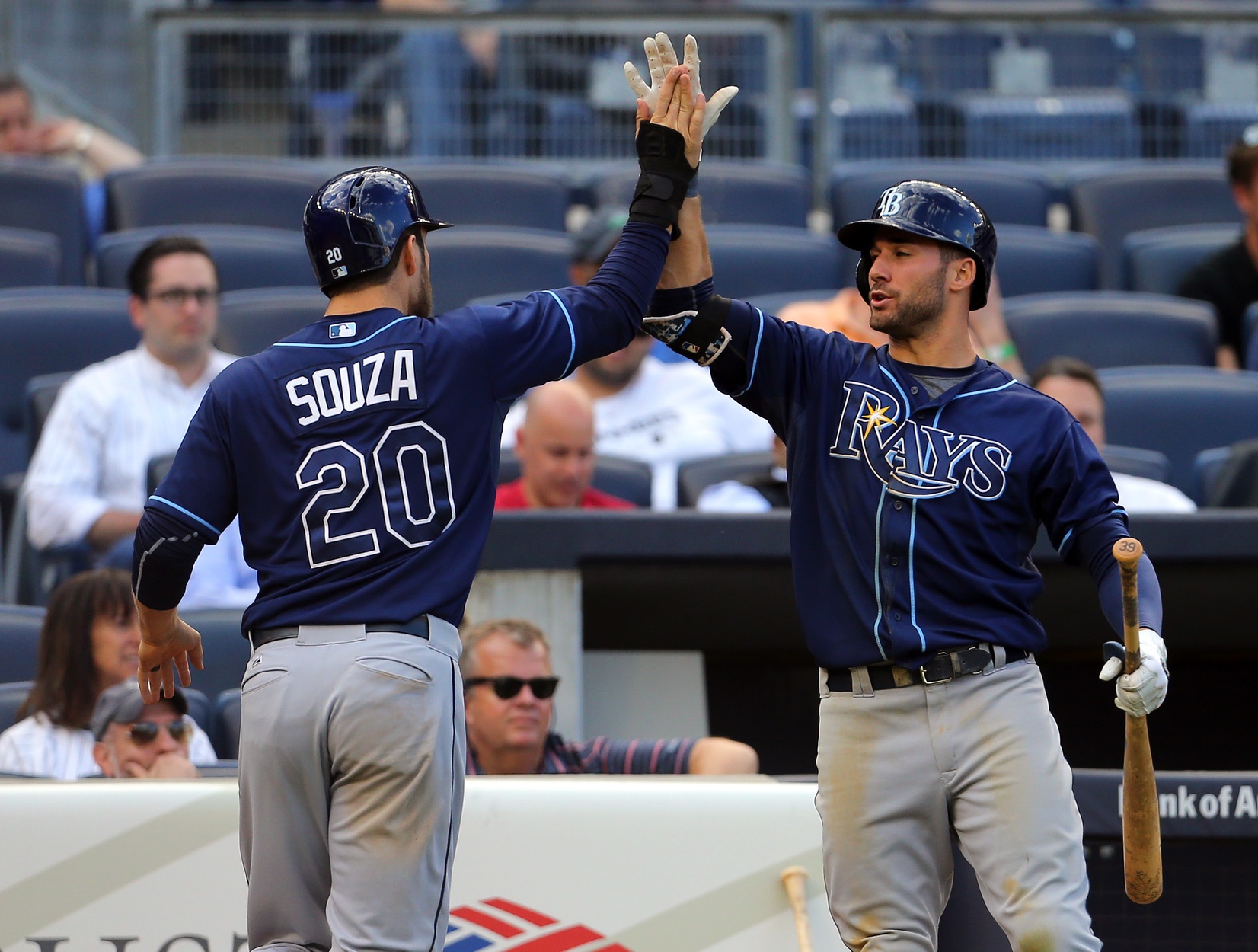 The GBT - The Good, The Bad and The Telling sandwich, where The Bad is nice and lean and the The Telling is ripe.
RAYS 3, Yankees 2 (13) (boxscore)
THE GOOD: Some games you feel the Rays can't lose. Some you feel they can't win. Then there are the games that you never get a good feel for. The final game of the Yankees series was the latter and nothing felt really good until James Loney singled home the go-ahead run with 2 outs in the top of the 13th. And he did it against a lefty who had just intentionally walked Evan Longoria…The bullpen, which has been a liability at times this season, was incredible on Wednesday. Five relievers combined to throw 7 shutout innings, allowing just 3 hits and 2 walks while striking out 6. And the key was Steve Geltz who immediately relieved Drew Smyly and struck out all 5 batters he faced…Between Steve Geltz and Drew Smyly, the 2 pitchers struck out 15 of the Yankees' first 27 batters.
THE BAD: Desmond Jennings missed his fourth straight game with a sore knee and now the Rays are heading home to the Trop for 3 games on artificial turf. Kevin Cash admitted this might be an issue suggesting it might be a while before Flash returns to the lineup.
THE TELLING: The Rays are now 12-10, 1.0 game behind the Yankees and tied with the Red Sox…Alex Colome will indeed start Friday's game at The Trop against the Orioles. Matt Andriese was sent to Durham to make room…Kirby Yates was added to the MLB disabled list even though he was demoted last week. The Rays basically rescinded his demotion and will now pay him an MLB salary instead of a Minor League salary. The only apparent benefit is that the Rays won't be charged a minor league option against Yates which means they'll have more options to send him down to the minors in the future.
THE JUNKYARD DOGS WEBTOPIA…
We knew this was coming. Major League Baseball's investigation into tampering charges against the Cubs "produced no finding of a violation" of MLB's tampering rule. [TampaBay.com]
Chris Westmoreland, the Rays travel director, has had a busy couple of days. [TampaBay.com]
DOWN ON THE FARM [boxscores] Andrew Bellatti made the start in Durham's 9-3 win, giving up 2 runs in 5 innings. Mikie Mahtook was 2-4 with a walk. Allan Dykstra went 0-3 with 2 walks and JP Arencibia was 2-3 with a walk…Richie Shaffer hit his 5th home run in Montgomery's 4-3 loss. Justin O'Conner went 1-3 with a walk…Casey Gillaspie hit his 3rd home run in Bowling Green's 8-7 loss. Riley Unroe was 0-2 with 3 walks and Justin Williams had 3 hits.
Kevin Kiermaier explains why he drives a 1999 Dodge Caravan.
Likes

(

0

)
Dislikes

(

0

)