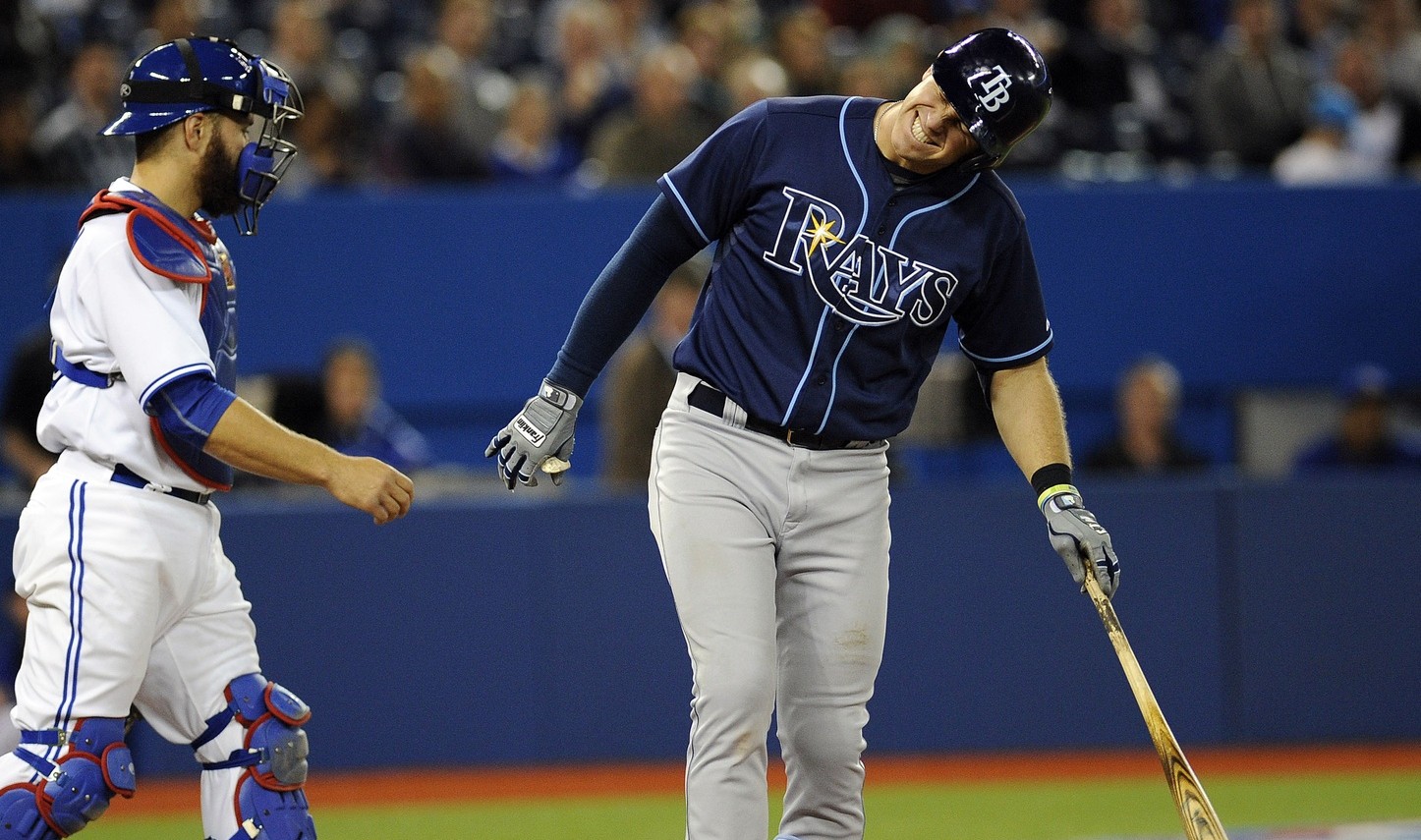 The GBT - The Good, The Bad and The Telling sandwich, where The Bad is nice and lean and the The Telling is ripe.
RAYS 4, Blue Jays 2 (boxscore)
THE GOOD: It's early, but the Rays are 6-4 which is a lot better than most imagined. Even the most optimistic Rays supporters knew this season had little room for error and what the Rays couldn't afford was a bad start. Pitchers who are supposed to be on the roster are pitching well which is promising for when the rest come back. Even some in the national media is starting to notice. Of course, the question mark is the offense. So far, the Rays are scoring 4.4 runs per game up from 3.8 a year ago. That's a huge difference. But how much of it is real? A lot of the offense has come from the bench and we can't expect that to keep up all season. At the same time, Evan Longoria and Desmond Jennings haven't done much and John Jaso and James Loney have been hurt, so it is not unreasonable to think the starters will get better. But what the real offense looks like is still a mystery…Chris Archer is pretty good. Archer has made three starts this year. On normal rest he has pitched 14 innings and allowed just 3 hits with 3 walks and 16 strikeouts and a 0.00 ERA. On short rest he has 5.2 ip with 6 hits, 1 walk, 5 strikeouts, and a 4.76 ERA. Weird. It's almost like you shouldn't throw your young ace on short rest early in the season when one game doesn't mean more than the next. The good news is that the short rest does not appear to have had a hangover effect…Kevin Jepsen. Bases loaded with no outs in the 8th inning with the tying run at the plate. Fly ball, fly ball, groundball and Jepsen got the Rays out of the jam having only allowed 1 run on one of the fly balls…Tim Beckham has only 1 pro season with more than 6 HR (12 in 2011). After his home run last night, he'd have 3 in 10 games if not for Kevin Pillar.
THE BAD: Hitting batters on purpose is dumb, whether it is the Rays or the other team. Hitting an opposing batter on purpose for something that was not intentional is just idiotic. So when the Jays hit Evan Longoria and knocked him out of the game, it was just idiotic baseball. And this wasn't even the first time in this series. And then to add stupid on top of idiotic, when Kevin Jepsen hit a batter in the next inning, Blue Jays fans got mad as if the Rays really wanted to load the bases with no outs and with Jose Bautista on deck. I mean, come on. It's so stupid it's laughable. Thank goodness this series is over.
THE TELLING: The Rays signed slugging catcher JP Arencibia to a minor league deal and assigned him to triple-A. He averaged 21 home runs per year in his last 3 years with the Blue Jays but struggled last year with the Rangers in just 63 games. He was in Spring Training with the Orioles but was released last week…Kevin Cash was ejected for the first time as a manager when a replay ruled that a Blue Jays batter was hit by a pitch (replays showed he was hit by the pitch). Cash was ejected once as a player…Thursdays at the Trop are "Throwback Thursday." Any chance the Rays will start wearing their 1970s fauxbacks for home-Thursday games? The White Sox wear throwback unis for every home game on Sunday, so there is precedence. It would also be awesome.
THE JUNKYARD DOGS WEBTOPIA…
The big winner early in the season is Rays pitching prospect Burch Smith. He was supposed to make $82,700 this season. Instead, he will make more than $500,000 thanks to a season-ending injury and a loophole in MLB's roster rules. [BI Sports]
An in-depth look at new Padres pitcher James Shields, including a lot of background on his time with the Rays. [UT-San Diego]
DOWN ON THE FARM [boxscores] Ryan Brett was 1-4 and Hak-Ju Lee went 2-4 with a double in Durham's 4-1 loss…Austin Pruitt struck out 7 and allowed just 1 run in 7 innings for Montgomery in their 3-2 loss in 10 innings. Tyler Goeddel homered. Both Justin O'Conner and Richie Shaffer were 0-4…Alex Colome made a rehab start in game 1 of a double-header for Charlotte, striking out 4 but giving up 2 solo home runs in 3 innings. Willy Adames was 1-7 in the 2 losses. Andrew Velazquez was 1-8 with a double…Casey Gillaspie was 0-4 in Bowling Green's 5-2 loss and Justin Williams went 1-4 with a double. 2B Riley Unroe hit his first home run of the season.
Likes

(

0

)
Dislikes

(

0

)