The GBT - The Good, The Bad and The Telling sandwich, where The Bad is nice and lean and the The Telling is ripe.
Blue Jays, RAYS 7 (boxscore)
THE GOOD: Mikie Mahtook picked up his first big league hit and it was a home run. When he got back to the dugout, he got the silent treatment.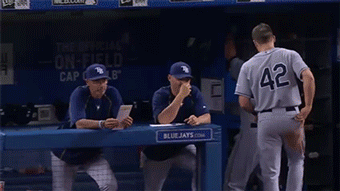 THE BAD: It was just one of those nights. You know the kind. The kind where you realize that (almost) nothing will go right and you are a big league team with only 3 (or 4) starting pitchers.
THE TELLING: No stolen bases on Wednesday, but the Rays already have 10 in 9 games, 3rd among all MLB teams. The Rays didn't reach 10 steals last year until game 30 on May 2…Steven Souza's 463-foot home run on Tuesday was the longest by the Rays since Carlos Pena in 2009…Players coming off the bench are now 13-30 (.433) with 10 RBI. Starters are 56-267 (.210) with 30 RBI…Drew Smyly has looked good in 2 rehab starts with Charlotte. His 3rd of 4 rehab starts is expected to come Sunday…Jake McGee threw batting practice on Tuesday and is expected to make an extended spring training start on Monday…Alex Colome will make his 2nd rehab appearance today for Charlotte…Alex Cobb is still just "playing catch" and Nick Franklin is not ready to start a rehab stint according to Marc Topkin.
THE JUNKYARD DOGS WEBTOPIA…
Likes

(

0

)
Dislikes

(

0

)