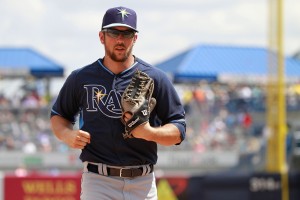 The GBT - The Good, The Bad and The Telling sandwich, where The Bad is nice and lean and the The Telling is ripe.
RAYS (boxscore)
THE GOOD: Kevin Kiermaier needs to be starting everyday. He had a single. But the big blow came in the 9th when Kiermaier robbed a would-be extra-base hit at the wall to protect the 1-run lead and then shooshed some Jays fans (see below). At the very least, Kiermaier needs to be in the lineup unless there is a particularly tough lefty. If the Rays think he can't hit lefties, then have him bunt every time. He'll beat out a few. That, combined with his defense, is no worse than any other option…Steven Souza is a rich man's Wil Myers. If he can stay healthy (and there is no reason to think he can't), he will be more productive for the Rays than what Myers could have been. On Tuesday it was 3 hits, including a LONG home run (see below), and a stolen base. Maybe just as important, Souza has the personality to fit in with the Rays that Myers never did. The Rays may have already "won" that deal.
THE BAD: Instant replay has a problem. Desmond Jennings was called out trying to steal second. Replays appeared to show that the tag slapped the dirt and never hit Jennings. Even the Blue Jays TV crew assumed the call was going to be overturned. But in the end it wasn't and in all likelihood it was because we weren't 100% sure the glove didn't grazzzzeeee Jennings on the way by, which leads to our problem. Why does replay have to be "conclusive." By saying it needs to be conclusive, MLB (and other sports) is saying they trust the eyes of the umpire in real-time speed over the eyes of an official looking at multiple replays from multiple angles, all in slo-mo. Why in the world does the ump get the benefit of the doubt of having the better look? And yes, I am biased in this case. But I have been making this argument for a while, in other games, and even other sports (e.g. NFL). If you are going to look at the replay, make the best call based on what it shows you. It can't possibly be worse than what the umpire did in real-time.
THE TELLING: Erasmo Ramirez will start tonight's game…Kirby Yates was sent down to triple-A. No corresponding move has been made yet, but the only pitchers in the minors already on the 40-man roster are Jose Dominguez and CJ Riefenhauser…
THE JUNKYARD DOGS WEBTOPIA…
Kevin Kiermaier shooshes the Jays fans.
Steven Souza hit a LONG home run.
This is where it was hit.
Upon further review, Souza's home run DID land. It landed right here: pic.twitter.com/WxYCaTxHDJ — Tampa Bay Rays (@RaysBaseball) April 15, 2015
Likes

(

1

)
Dislikes

(

0

)