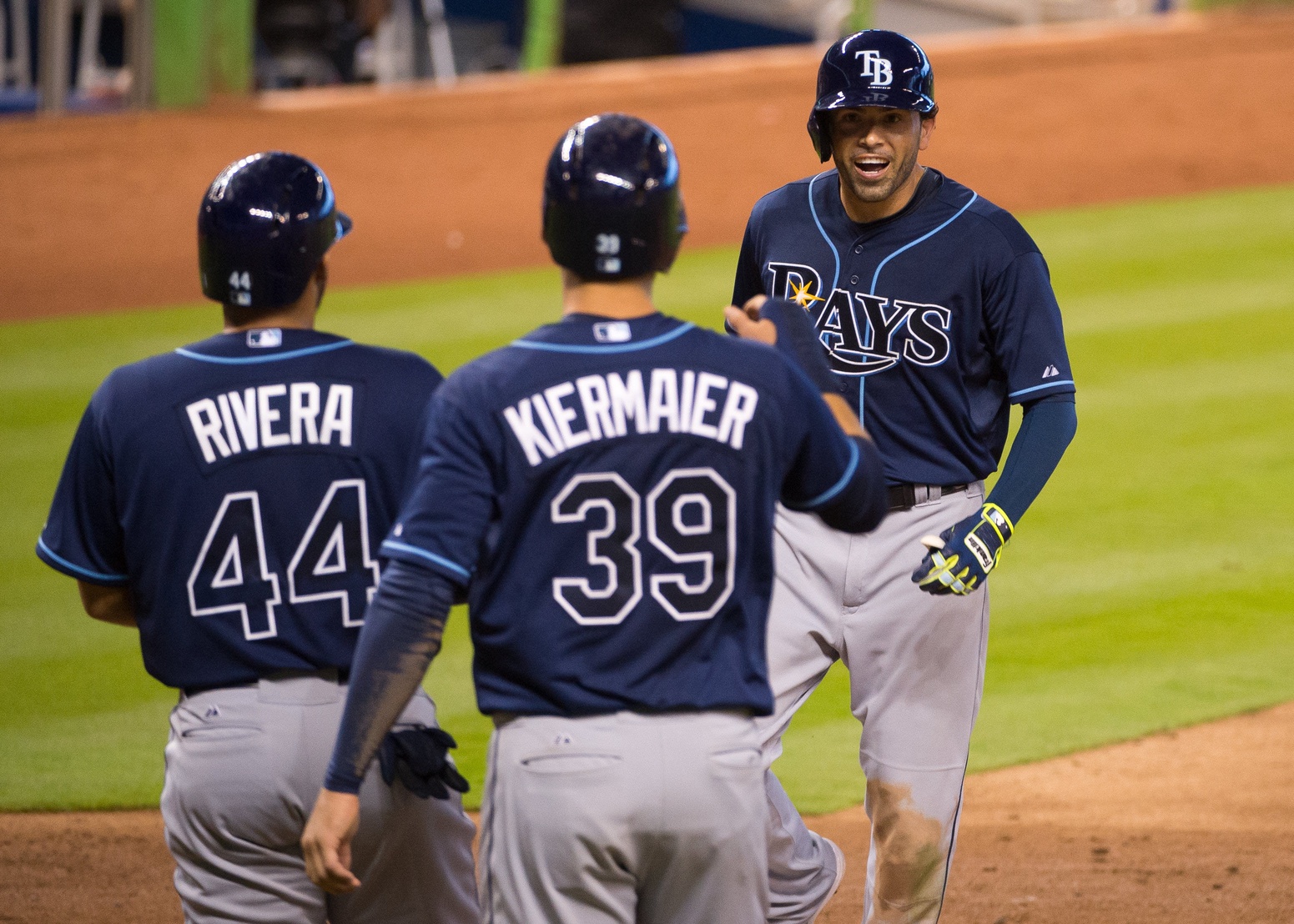 The GBT - The Good, The Bad and The Telling sandwich, where The Bad is nice and lean and the The Telling is ripe.
RAYS 8, Marlins 5 (boxscore)
THE GOOD: Nathan Karns pitched a hell of a game on Sunday, giving up just 2 runs (1 earned) on 2 hits and 2 walks in 7 innings…Anybody upset the Rays haven't traded Davis DeJesus yet? His latest gem included a 3-run home run, 2 hits, and a great diving catch in the outfield…Kevin Kiermaier was at it again turning two singles into doubles with some head's up base running and pure hustle. He is now second among all MLB players with 7 extra-base hits. I love the aggressiveness. But at the same time, Outlaw needs to be careful. The second came when he rounded hard at first base and kept going when Giancarlo Stanton was undecided about throwing home. Other teams are going to see that and it won't be long before right fielders are faking throws home just to get Kiermaier going too hard around first base and he will be a sitting duck…Chris Archer allowed just 1 hit on 7 innings on Saturday. It's almost as if Archer pitches better on normal rest. Weird.
THE BAD: Kevin Kiermaier nearly decapitated Rocco Baldelli on the first pitch of the game. Rocco's reaction was priceless…Matt Andriese will start Tuesday's game. Wednesday's starter is still undecided…Nathan Karns squared to bunt and nearly got decapitated himself. Luckily he went full Matrix. Still, he wasn't happy…
THE TELLING: Tim Beckham will be in the starting lineup tonight…The Rays now have 9 players on the DL. The Texas Rangers (10) are the only team with more…After starting the season with high-cuffed pants at home, third base coach Charlie Montoyo went pajama pants on the road in Miami…Alex Colome has started a rehab assignment with single-A Charlotte. He pitched 3 scoreless innings on Saturday. He will pitch again on Thursday…Drew Smyly will make his next rehab start for Charlotte tomorrow.
THE JUNKYARD DOGS WEBTOPIA…
Marc Topkin caught up with Kelly Nash about her new gig with the MLB Network. [TampaBay.com]
DOWN ON THE FARM [boxscores] Hak-Ju Lee went 1-4 with a strikeout for Durham…In Montgomery, Daniel Robertson was 1-4 and Richie Shaffer was 0-4…Andrew Velazquez went 2-4 with an RBI for Charlotte. Willy Adames was 2-4 with a double…Casey Gillaspie was 2-4 with a home run for Bowling Green. Justin Williams and Nick Ciuffo both went 0-4.
Likes

(

0

)
Dislikes

(

0

)