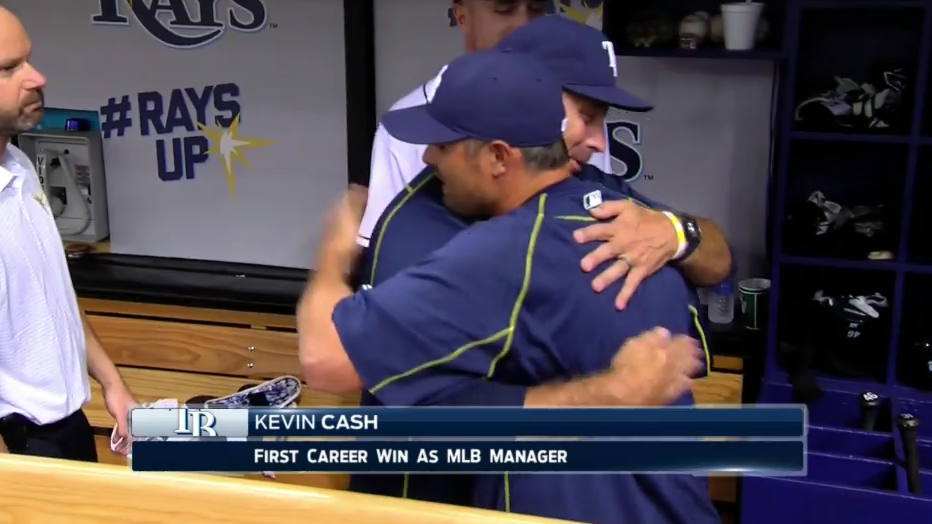 The GBT - The Good, The Bad and The Telling sandwich, where The Bad is nice and lean and the The Telling is ripe.
RAYS 2, Orioles 0 (boxscore)
THE GOOD: Kevin Cash picks up his first win as a big league manager. After the game, Cash was pulled into the showed where he was doused with "beer and other things"…Jake Odorizzi threw 6.2 scoreless innings. That's pretty standard for him. He had 7 starts last year in which he did not allow a run, tied with Alex Cobb for the second most in the AL. And Jake brought the good changeup. He threw his split-change 29 times and the Orioles swung-and-missed 10 times. Of those, 5 were strike 3…The Rays took the lead for the first time this season with Logan Forsythe's bases-loaded walk. It was the Rays' 105th bases-loaded walk since the start of the '08 season, 17 more than any other team during that span.
THE BAD: James Loney went on the DL with a strained oblique. The Rays are saying they caught it early and hope he'll only be out 2 weeks, but you never know with obliques. There are now 8 players on the disabled list…There have been 5 replay challenges in the first 3 games and all 5 have gone against the Rays.
THE TELLING: The Rays still have not named a starter for Friday's game in Miami…Allan Dykstra was called up to take James Loney's spot and started at first base. This led to the odd sequence in which Tim Beckham, the first pick of the '08 draft, pinch hit for Dykstra, the 23rd pick of the '08 draft. Both are in their 8th pro seasons and have 16 career plate appearances combined…To make room on the 40-man roster for Allan Dykstra, the Rays promoted the injured Burch Smith and then placed him on the 60-day DL (Tommy John surgery). Players on the 60-day DL don't count towards the 40-man roster…The Rays have used a different DH in the leadoff spot for all 3 games. That hasn't happened since 1991 according to Elias…Jeremy Hellickson gave up 3 runs on 9 hits and 2 walks in 4.1 innings in Diamondbacks loss, his first with his new team…Scott Kazmir allowed just 1 hit and struck out 10 in 7 shutout innings for the A's.
THE JUNKYARD DOGS WEBTOPIA…
Here is a review of the Rays' international signings. [Baseball America]
Yesterday we posted a comprehensive list of the Rays' top prospects. [RaysIndex]
Likes

(

0

)
Dislikes

(

0

)