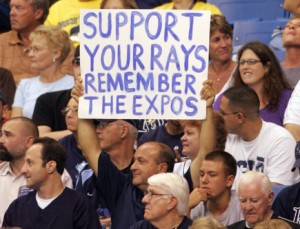 The Rays finished dead-last in attendance last season at 1.45 million with just 17,857 tickets distributed per game, and the early signs are that the numbers are going to be worse this season.
In fact, if the first two weeks of the season are any indication, attendance is going to be much worse as the Rays are headed towards an attendance of 1.2-1.3 million, the lowest in MLB in nearly a decade.
As John Romano noted in a recent column, attendance through the first 12 home games of the season is down 16.6%. That's in line with what we saw at Fan Fest in February where attendance this year was estimated to be down 20% from last year.
If attendance remains down 16.6% all season, the Rays will draw just 1.21 million fans or about 14,893 fans per game.
The last team to draw fewer than 1.3 million fans in a season was the 2006 Marlins with an attendance of 1.16 million. The last time the Rays did it was in 2005 with 1.15 million fans attending games that season.
But if we take a closer look, things may not be quite that bad.
Instead of just looking at just the first 12 games, lets project what the attendance would look like through 12 games based on the days of the games and the opponents. That is, how did the attendance in the first two weeks compare to the average attendance on those days of the week last year and how does the attendance compare to the average attendance in games versus those same opponents last year.
Opening Day's "projected" attendance was left unchanged since attendance in game 1 is not influenced by the day or the opponent. It was also excluded from the calculated averages for 2014.
What we see is that attendance is still down quite a bit, but not quite as bad as the 16.6% cited above.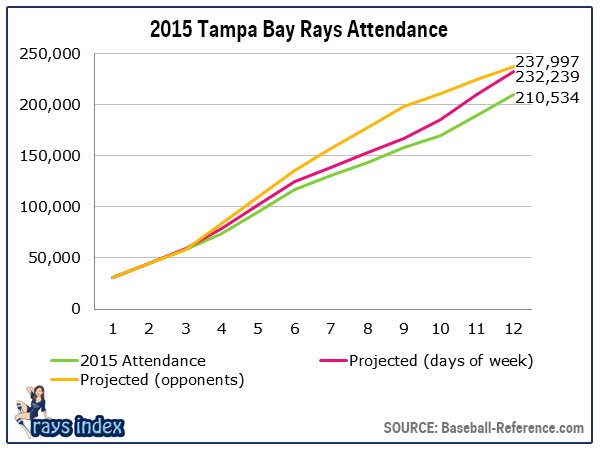 The projected attendance based on the days played and the opponents faced so far are fairly close. The actual attendance is well short of both, down 9.3% based on the days of the week and down 11.5% based on the opponents faced.
So let's split the difference and say attendance is down about 10%. That would put the 2015 attendance on pace to land right at 1.3 million and just a tad over 16,000 per game.
Either way, attendance is getting worse and it is just going to lead to even more chatter among the national media about moving the team to Montreal.
Likes

(

0

)
Dislikes

(

0

)