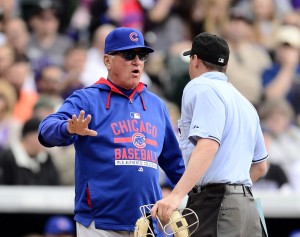 Even though Major League Baseball's tampering investigation against the Chicago Cubs and how they hired Joe Maddon is in its sixth month, and even though one report said the Rays had proof of tampering, it sounds like the investigation will be concluded without any discipline being leveled against the Cubs.
Jon Heyman of CBSSports.com reports that the investigation should be over soon and that there may not be any strong evidence to implicate the Cubs.
"The expectation is that MLB's tampering investigation spurred by Tampa Bay's allegation against the Cubs in the Joe Maddon case will be wrapped up fairly soon, and while MLB was still interviewing people involved as recently as last week, there is believed to have been no smoking gun found. (Had there been, it certainly wouldn't have taken this long.)"
According to Heyman, the investigation included computer forensics on "devices" belonging to "Cubs people" as well as Maddon's agent, Alan Nero.
Heyman also makes a weird claim that the tampering allegations against the Cubs are hurt by Maddon's counter-offer to the Rays to stay with the team.
"One weakness in the case would seem to be Maddon's olive-branch offer to stay with the Rays for what is said to have been a four-year deal for only slightly more than half of the $25 million, five-year deal he ultimately got with the Cubs. If he had any inkling the Cubs were going to make him $5 million a year, it's difficult to understand why he'd offer to stay for barely more than half that."
The biggest problem with this claim is that Maddon knows the Rays' modus operandi as well as anybody. He knows that the Rays are not a team that is going to negotiate themselves into a price they don't want to pay. They make what they believe is a fair offer. Maybe there is some wiggle room. But if the sides are too far apart, they will just walk away.
At the time, it is believed that the Rays' best offer to Maddon was $3 million per year and that it was probably for just three years. Based on the wording of Heyman above it sounds like Maddon countered with a 4-year deal worth maybe $15-16 million.
A $6-7 million difference over 3-4 years may not be a big deal for a lot of teams, but Maddon is smart enough to know that his offer was never going to be accepted. At the time I called the offer "meaningless" and that stands.
And then there is this little tidbit from Heyman which is probably also meaningless, but still interesting.
"Rays owner Stuart Sternberg was said to have been quite upset to see Maddon leave, to the point of telling him he'd never work for them again upon the breakup."
Lots of teams have had similar ugly breakups with similar declarations. Time has a funny way of healing things. So it is probably too soon to say Maddon will never be associated with the Rays again. But who knows.
Likes

(

1

)
Dislikes

(

0

)