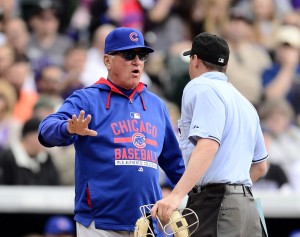 It has been more than five months since the Chicago Cubs hired Joe Maddon and the Tampa Bay Rays asked Major League Baseball to investigate the move.
Despite several reports that the case would be resolved before the start of the regular season, we are now into the second week of the season and there is still no word on whether or not the Cubs will be punished for tampering.
On Monday, rookie commissioner Rob Manfred said (via TampaBay.com) the investigation "remains ongoing" and it should be resolved "fairly soon."
In early November, this is how Joel Sherman first reported the tampering charges:
"It is the Rays' contention Maddon only opted out of his contract because he was made aware of what the Cubs were willing to offer him should he jump. If that indeed occurred, it would be an infraction of major league rules that forbid teams to talk to personnel under contract with another club."
A month later at the Winter Meetings, Stuart Sternberg did not hesitate when he was asked if he was over what happened with Maddon and the Cubs. "No," said Sternberg. "We'll leave it at that."
Two months after that, as players were preparing to report to Spring Training, Bob Nightengale reported that the Rays "insist they have proof" of tampering.
The #Cubs insist there was no tampering involving the hiring of Joe Maddon.The #Rays insist they have proof the #Cubs tampered. Stay tuned.,

— Bob Nightengale (@BNightengale) February 5, 2015
Of course, the Rays are not going to get Maddon back. About all the Rays can hope for is to have MLB decide the Rays need to be compensated in the form of a prospect (unlikely) or a draft pick (more likely). And considering how long this is taking, it would seem that there is evidence of something.
Likes

(

0

)
Dislikes

(

1

)