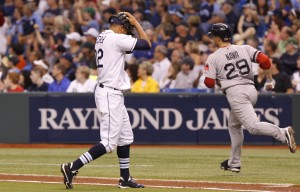 If you have been reading Rays Index for the last couple of weeks then it is no surprise to you that Chris Archer had to alter his routine in order to pitch in game No. 1 instead of game No. 2. Now we have the details via Marc Topkin.
By being bumped up a day, Archer will have just three days of rest since his final Spring Training start, which was cut short to just two innings for this very reason.
According to Topkin, Archer "skipped the usual bullpen session two days after a start, though he did plan to do his usual day-before light throwing session Sunday."
"It's not perfect," Archer said. "(But) I don't think it'll be that tough."
Not exactly the optimism you'd hope for from your best starting pitcher to start the season.
I have been critical of the move. However, it is not because I don't think Archer can handle it. In fact I am sure he will be fine on Opening Day.
The problem is, arms are a fragile thing and pitchers are creatures of habit. And even if you are part of the camp that feels pitchers are coddled too much these days, we don't know which arms are being coddled or abused too much until they break down.
Yes, in the old days lots of pitchers worked on three days rest and threw 300+ innings. But how many great pitchers were lost in the minors or early in their big league careers because of that? Would Pedro Martinez have ever existed if teams still used a 3- or 4-man rotation? Probably not. He would have been converted to a reliever or left to rot in the minors because he would have been identified as a guy incapable of throwing 8-9 innings every 3-4 days.
Will Archer's arm have a bad reaction to being put on a weird schedule early in the season? Nobody knows and that's the problem.
The pitcher that goes on Opening Day should make 33 starts if everything goes well. The pitcher that starts in game 2 will also make 33 starts if everything goes well.
Both pitcher's starts count the same in the standings.
Why take the risk just for some pomp and circumstance? And if this is about Archer's ego needing to be stroked then Archer and the Rays have bigger problems.
Likes

(

1

)
Dislikes

(

2

)