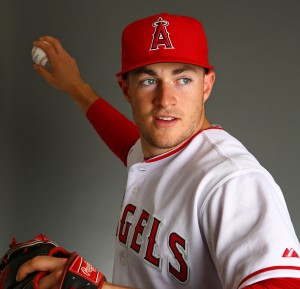 The exodus of big league talent continues as the Rays announced they have traded left-handed pitcher Cesar Ramos to the Los Angeles Angels of Anaheim near Disneyland for right-handed pitching prospect Mark Sappington.
The move is not terribly surprising as Ramos is now 30 and is projected to make close to $1.5 million in 2015 through arbitration. Ramos is decent, but the Rays can probably find that level of production from a minor leaguer making the minimum salary or use the money to upgrade.
Sappington began the season as a starting pitcher in double-A, but was eventually demoted to high-A and became a reliever, striking out 80 in 70.1 innings, but also walking 43. He was considered the 5th-best prospect in the Angels organization.
He also calls himself "sappDIESEL" on Twitter.
THE JUNKYARD DOGS WEBTOPIA…
Mark Sappington has been inserted as the 19th best prospect in the Rays organization according to MLB.com. They have Casey Gillaspie (2014 1st rd pick), Willy Adames (part of the David Price trade), and Taylor Guerrieri (2011 1st rd pick) as the top 3 prospects. [MLB.com]
Baseball America has also released their list of top prospects in the Rays organization. They have Willy Adames at the top, followed by Alex Colome and catcher Justin O'Conner. Interestingly, they don't even have Casey Gillaspie or Taylor Guerrieri in their top 10. They do have 16-year-old Adrian Rondon at no. 4, the Dominican shortstop the Rays signed last summer. [Baseball America]
Somebody wrote an article for the LA Times titled "Geeks inherit the Earth, or at least the Dodgers front office." As you can guess, it is about how nerds now run the Dodgers, led by Andrew Friedman and OMG does he know anything about baseball? [LA Times]
Finally, Mike Lortz found this great video of what appears to be a Montreal sports talk show. They have apparently not heard anything about the Rays talking to people about moving to Montreal. They also think the Rays are owned by Jeffrey Loria. I warn you. This is funny at first but it gets really bad, in a painful way. I couldn't even get through it all.
Likes

(

1

)
Dislikes

(

0

)