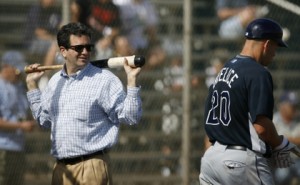 Below you will see the Rays' Spring Training roster broken into two parts, the 40-man roster and the non-roster invitees (click on images for a larger view).
Remember, in order to play for the Rays during the regular season, a player must be on the 40-man roster, which includes players on the active 25-man roster, players on the disabled list and up to 15 players in the minor leagues. Also keep in mind that extra catchers are always needed during spring training in order to catch all the pitchers that need to throw bullpen sessions outside of games.
Here are a few notes on the roster…
The Rays have 62 players in camp, not including Jeremy Hellickson and Tim Beckham, who are both injured. You can also see the full spring training roster at the Cork-Board.
After the trade of Jose Lobaton and Felipe Rivero for Nate Karns, the Rays now have 39 players on the 40-man roster.
Jose Molina is the oldest player in camp at 38 years and 257 days old.
Enny Romero is the youngest player on the 40-man roster in camp at 23 years and 21 days. Catcher Luke Maile, a non-roster invitee is the youngest player in camp at 23 years and eight days.
Jose Molina also has the most service time in the big leagues with 12 years and 26 days. He is followed by David DeJesus (9 years, 146 days) and Grant Balfour (9 years, 99 days).
Six players on the 40-man roster have never appeared in a big league game, including Mike Montgomery, CJ Riefenhauser, Felipe Rivero, Kirby Yates, Vince Belnome, and Hak-Ju Lee.
David Price, who will make $14 million this season is the most expensive player in camp. Seven players will make at least $5 million.
Of the players on the 40-man roster, 20 players were acquired via trade, ten were drafted, seven were signed as free agents, and two were signed as international free agents. You can see the full breakdown at this link.
Here is the 40-man roster (it should be noted that this was produced prior to the Jose Lobaton trade and the Erik Bedard signing. You can see the updated list on our Cork-Board):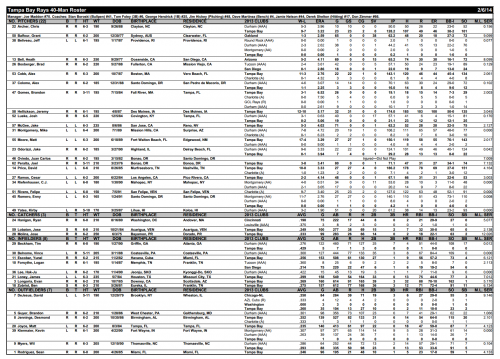 Here are the non-roster invitees: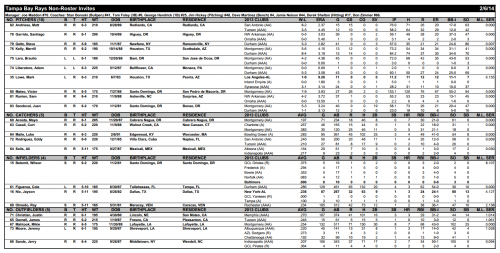 Likes

(

0

)
Dislikes

(

0

)