Here is the latest opening day roster projections as Spring Training gets underway (notes and thoughts on the projection can be found below).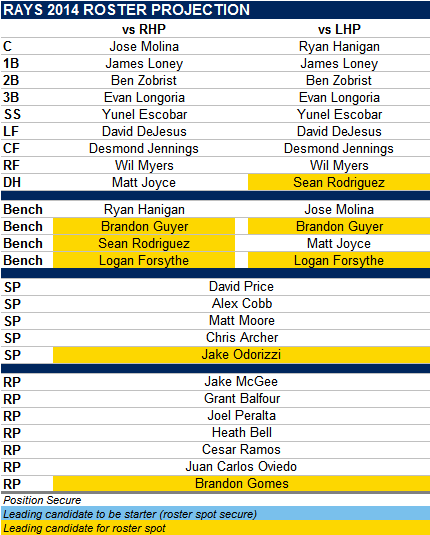 LINEUP
We know Jose Molina and Ryan Hanigan will split the catching duties.
We know Evan Longoria, Yunel Escobar, Ben Zobrist, and James Loney will be the infield on most days.
We also know that Desmond Jennings, David DeJesus, Wil Myers, and Matt Joyce will share the outfield with the odd-man out often filling in at DH. Also, don't be surprised if DeJesus eventually becomes the most-days center fielder with Jennings moving back to left field.
The one question mark is the DH against lefties. In reality, that will likely be a game-by-game decision. But at this point, let's give the nod to Sean Rodriguez. Of course, I am not convinced that Hot Rod's spot on the roster is secure. Both Jayson Nix and Jerry Sands have to be considered for the roster and if they make it, they will see plenty of time at DH.
BENCH
Brandon Guyer is a big question mark. He could also see time as a right-handed hitting DH and he is out of options so he must be on the opening day roster or be placed on waivers.
Jayson Nix, Jerry Sands, and Wilson Betemit all have good shots to make the opening day roster. If one or more of those players make it, Guyer and Sean Rodriguez are the first players out.
ROTATION
Some think there is still a chance that David Price is traded. I would put that possibility at about 10%. In other words, it's not likely but not impossible to imagine either.
With Jeremy Hellickson on the disabled list to start the season, the final spot in the rotation looks like a three-way race between Jake Odorizzi, Nate Karns, and Erik Bedard.
The more I learn about Karns, the more it seems he needs more seasoning. If Bedard has anything left in the tank, I will give him a slight edge over Odorizzi, but we need to see something first. Remember, the Rays chose Roberto Hernandez over Chris Archer in the spring last year. Did they learn their lesson or do they know prefer a cheap veteran in the fifth spot?
BULLPEN
As fans, we will miss Fernando Rodney, but it appears the bullpen will not. If Juan Carlos Oviedo is healthy, the Rays have four legit closer-level relievers in the bullpen, along with Grant Balfour, Jake McGee, and Heath Bell.
Add in Joel Peralta as a classic seventh/eighth inning arm and the Rays top five relievers are likely as good as team's top five.
Cesar Ramos is a lock for the sixth spot.
By my count, that leaves four relievers battling for the final roster spot in the bullpen, including Brandon Gomes, Josh Lueke (who is out of options), Mark Lowe, and possible Erik Bedard as a long reliever. I can see any of those four making it, but I will put them in this order (from more likely to less likely): Gomes, Bedard, Lowe, Lueke.
Likes

(

0

)
Dislikes

(

0

)