The Rays still need a right-handed hitter that can serve as the designated hitter for about 60 games against left-handed starters and there is still the cloud of David Price. But with the recent signing of James Loney, the opening day roster is nearly set and amazingly, it looks an awful lot like the roster at the end of the 2013 season.
Here is the projected opening day roster based on players currently in the organization. Some notes on the projection can be found below…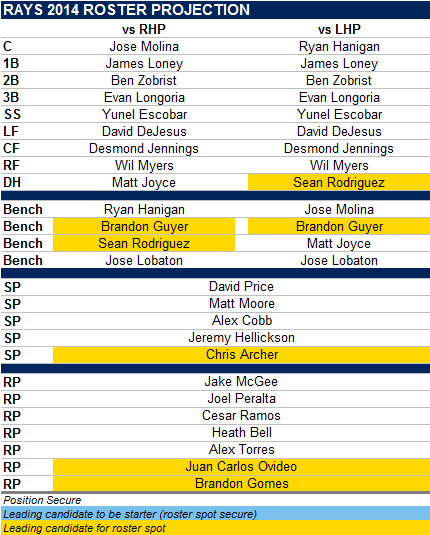 LINEUP
At this point, the lineup is pretty much set. There will be a platoon at catcher and there will be a 4-man rotation in the outfield and designated hitter. The rest of the lineup will be filled with most-days players (nobody is an everyday player in Maddon's system).
The Rays still need a right-handed hitting designated hitter.
If Sean Rodriguez is traded, the Rays will need a back-up infielder to fill one of the bench spots, preferably a utility player. Tim Beckham would have been perfect, but he will now miss most of the season with a torn ACL. The Rays also need to figure out what they are going to do with Jose Lobaton as it seems unlikely that Joe Maddon would want to have one of his bench spots tied up with a third catcher.
Brandon Guyer, has the inside track on the final bench spot and could potentially do some DH work. But with four regular outfielders and Rodriguez available, Guyer seems like overkill. He is out of minor league options so he must be on the opening day roster or exposed to waivers.
FREE AGENTS LOST: Kelly Johnson, Luke Scott, Delmon Young

OTHER PLAYERS ON THE 40-MAN ROSTER TO CONSIDER: Jose Lobaton, Chris Giminez, Kevin Kiermaier, Hak-Ju Lee, Vince Belnome

ROTATION
The biggest remaining question mark is of course David Price. We have talked about how the Rays can keep Price if they don't get a good enough offer and after the Winter Meetings I would put the chances of him being traded at 50/50.
Another question is Chris Archer. If Price is traded, Archer is a no-brainer. But if Price stays, there is a small chance Archer starts the season in the minors to limit the number of high-level innings on his arm this year.
BULLPEN
The bullpen is nearly set. Look for the Rays to add one more big league reliever with Jamey Wright being a strong possibility. After that, they will likely add 2-3 relievers on minor league deals and see if they hit the jackpot with one.
Juan Carlos Oviedo is in if he is healthy and is even a candidate for ninth inning work, although that seems like a longshot.
FREE AGENTS LOST: Jesse Crain, Roberto Hernandez, Fernando Rodney, Jamey Wright
OTHER PLAYERS ON THE 40-MAN ROSTER TO CONSIDER: Felipe Rivero, Jake Odorizzi, Enny Romero, Alex Colome, Josh Lueke, Jeff Beliveau, Mike Montgomery, Jesse Hahn, Kirby Yates, CJ Riefenhauser
Likes

(

0

)
Dislikes

(

0

)