This "projected roster" is not what we expect the Rays to look like on opening day. Rather, this is what the roster might look like if the 2014 season started today. In other words, we are just considering players currently in the organization, and are using this as a way to gauge where changes may happen.
Here is the projection. When the Rays acquire new players, either through trades or free agency, the players in yellow are the candidates most likely to be bumped from the roster. Notes on the roster can be seen below…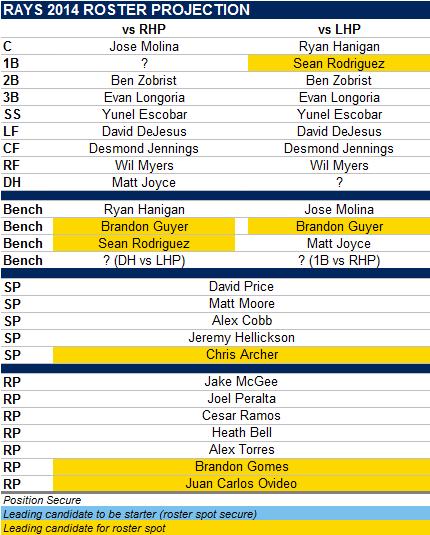 A Few notes on this roster…
LINEUP
With the additions of Jose Molina and Ryan Hanigan, there are now just two questions left in the lineup. The Rays need somebody to play first base, preferably everyday, and they need a right-handed hitting designated hitter.  James Loney is not likely to be back to play first base and while Delmon Young could fill the role of right-handed hitting DH, the Rays likely prefer somebody that can play multiple positions. The Rays are likely to have five outfielders on the roster with Brandon Guyer out of minor league options, so adding Young to the mix is not ideal.
We also know that Jose Lobaton is probably going to be traded no matter what the team says about possibly carrying three catchers. That is just posturing to try to convince other teams that the Rays are not desperate and won't accept a discount deal.
On the bench, Sean Rodriguez is not ideal, but he is a right-handed hitter and he can play several positions. So he is probably going to be on the team unless the Rays can trade for a better option. Guyer seems less secure, but he is out of minor league options and would have to clear waivers to be demoted.
FREE AGENTS LOST: Kelly Johnson, James Loney, Luke Scott, Delmon Young

OTHER PLAYERS ON THE 40-MAN ROSTER TO CONSIDER: Jose Lobaton, Chris Giminez, Tim Beckham, Kevin Kiermaier, Hak-Ju Lee, Vince Belnome

ROTATION
Things cleared up a little bit when the Rays cut ties with Jeff Niemann. If there was any doubt Jeremy Hellickson would be in the rotation, that is gone now. He could still be traded and a veteran, a la Roberto Hernandez, could be brought in.
Chris Archer also feels like a lock to be in the rotation now. But again, the Rays are so cautious with their young starting pitchers that it would not be a surprise if he was in the minors to start the season.
BULLPEN
With the Rays trading for Heath Bell, it would seem there is little chance of the Rays re-signing Fernando Rodney. Even if Bell is not the ninth inning pitcher, the Rays also have Jake McGee who could probably do the job. In other words, they have options.
Five of the seven spots in the bullpen are now locked in. One possible exception may be Alex Torres if the Rays decide he is still a starting pitcher. That seems unlikely at this point and if he is a reliever, he will be on the opening day roster. Juan Carlos Oviedo is also close to being a lock. The Rays say he will be healthy and ready for spring training. But until we see what he can do, his spot is not yet secure.
That leaves just one spot to be filled with Brandon Gomes the frontrunner. The Rays also have other options for the final spot, including Josh Lueke and Jeff Beliveau.
FREE AGENTS LOST: Jesse Crain, Roberto Hernandez, Fernando Rodney, Jamey Wright
OTHER PLAYERS ON THE 40-MAN ROSTER TO CONSIDER: Felipe Rivero, Jake Odorizzi, Enny Romero, Alex Colome, Josh Lueke, Jeff Beliveau, Mike Montgomery, Jesse Hahn, Kirby Yates, CJ Riefenhauser

Likes

(

0

)
Dislikes

(

0

)