This "projected roster" is not what we expect the Rays to look like on opening day. Rather, this is what the roster might look like if the 2014 season started today. In other words, we are just considering players currently in the organization, and are using this as a way to gauge where changes may happen.
Here is the projection. When the Rays acquire new players, either through trades or free agency, the players in yellow are the candidates most likely to be bumped from the roster. Notes on the roster can be seen below…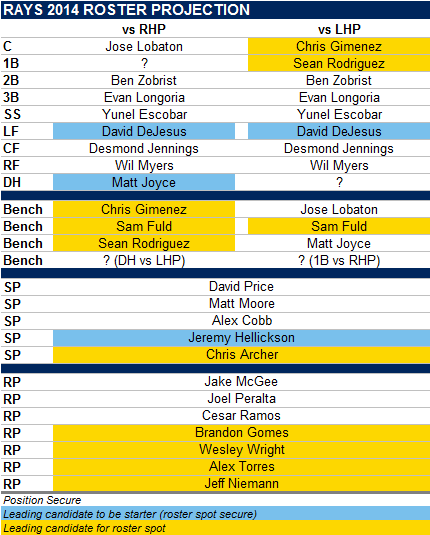 A Few notes on this roster…
LINEUP
We always build these projections based on the assumption that the Rays will not re-sign any of their free agents. That is probably a safe assumption with Luke Scott and Kelly Johnson. The Rays would probably like to have James Loney back, but he is likely to get more money elsewhere. It would not be a surprise if the Rays re-signed Jose Molina and Delmon Young to a pair of 1-year deals, possibly with an option for 2015.
The big questions in the lineup are first base, designated hitter, the second catcher, and left field.
The Rays did not give David DeJesus an extension to have him sitting on the bench. But where will he play? The logical spot would be to make him the most-days left fielder and sometimes DH. However, we saw this season that Desmond Jennings is not the great center fielder we always hoped he would be. Defensively, Jennings was actually worth -5.8 runs (that's bad) in 2013. For comparison, at his peak, BJ Upton was worth +7.8 runs defensively. On the other hand, DeJesus was worth +3.7 runs in 2013. So it would not be a surprise to see DeJesus in center and Jennings back in left. Either way, it would seem that Matt Joyce is destined to be the DH, occasionally filling in as an outfielder when Wil Myers takes his turn at DH.
One way or another, the Rays need another catcher, whether that is Molina or somebody younger. The Rays have confidence in Chris Gimenez and he could be the second catcher. But if he is, the Rays still need a third catcher on the 40-man roster to serve as a backup in Durham.
The other two positions most likely to be filled from outside the organization are first base and a right-handed hitting DH. Young would satisfy the latter, but the former is likely to be somebody that is not even on the radar right now.
FREE AGENTS LOST: Kelly Johnson, James Loney, Jose Molina, Luke Scott, Delmon Young

OTHER PLAYERS ON THE 40-MAN ROSTER TO CONSIDER: Tim Beckham, Kevin Kiermaier, Brandon Guyer, Hak-Ju Lee

ROTATION
Another assumption we make when putting these projections together is that nobody will be traded. If true, that means David Price, Matt Moore, and Alex Cobb will be the top three starting pitchers. After that, it is not very clear.
Jeff Niemann, Jeremy Hellickson, and Chris Archer are all candidates for the final two spots. It appears that Archer is out of minor league options so he seems like a lock for the rotation. I also don't have a lot of confidence in either Niemann or Hellickson. The Rays can certainly live with one of them as the fifth starter and barring a trade it would seem that those two would battle for the final spot in spring training.
Of course, if Price is traded, things look a lot less exciting. That would mean both Hellickson and Niemann are likely to be in the rotation and that doesn't sound like like a World Series-contending rotation.
BULLPEN
This is the spot where we typically see the most turnover. But before we can really get a good idea of how many spots are available, we need to know if the Rays are going to re-sign Fernando Rodney. Joel Peralta wants him to stay and said Rodney will take less to remain the Rays closer. But there are limits to discounts.
If Rodney is not re-signed, would the Rays automatically give the ninth inning to Jake McGee or would they look for another reclamation-project pitcher from outside the organization?
After McGee, the only other locks would appear to be Joel Peralta and Cesar Ramos. The next three would all seem to be close to locks. The only question with Alex Torres is whether or not the Rays want him to go back to being a starting pitcher. However, he is out of minor league options, so that would be difficult at this point unless they trade him. Brandon Gomes and Wesley Wright are also in unless the Rays sign or trade for better options.
The final spot goes to Jeff Niemann for now [Ed. note: An earlier version of this had Josh Lueke in the final spot. But after thinking about it for a while, it is probably too soon to discount Niemann entirely. If he is not in the rotation, and still on the team, he will be in the bullpen].
FREE AGENTS LOST: Jesse Crain, Roberto Hernandez, Fernando Rodney, Jamey Wright
OTHER PLAYERS ON THE 40-MAN ROSTER TO CONSIDER: Felipe Rivero, Jake Odorizzi, Enny Romero, Alex Colome, Josh Lueke, Jeff Beliveau, Mike Montgomery

Likes

(

0

)
Dislikes

(

0

)