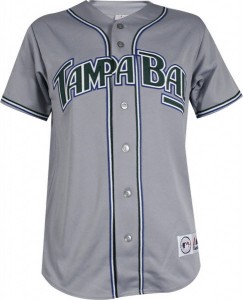 Last week we mentioned that Paul Lukas of ESPN.com had constructed a ranking of MLB uniforms with the Rays coming in at no. 18. Well, Will Leitch of SportsOnEarth.com (formerly of Deadspin.com and other places), came up with his own list as a response.
Leitch has the Rays ranked no. 26. That's his opinion, and that's fine. But what caught our attention immediately was that his biggest complaint was based on how "Tampa Bay" is written on the jersey, noting that it "barely fits on the jersey now."
That's funny, considering the Rays haven't had a jersey in the regular rotation with "Tampa Bay" across the front since 2007.
To make matters worse, Leitch linked to an image of the jersey to show what he was talking about and the picture at the top of this post was the jersey at the other end of his link.
I complained about this on Twitter and Leitch changed the website the next morning. But here is the screenshot. You can see the unedited page at this link…
I should point out that I am a big fan of Leitch and have been for a long time. When I started RI back in '06, I tried to mimic Leitch's style in several ways. He also linked to RI a few times in the early days and even invited me to write about the Rays over there once or twice.
But I can also safely say that if I wrote a popular uniform ranking and thought the Cardinals still wore baby blue uniforms, Leitch would be the first to scream "have you lost your god damned mind?"
If the Rays were still losing 105 games each year I might be more forgiving if a fan of an N.L. team momentarily forgot the Rays were no longer wearing green. But the Rays have been to the playoffs three times since dropping the green. And if that has slipped your mind, you probably shouldn't be ranking the uniforms in the first place.
Likes

(

0

)
Dislikes

(

0

)