With Jamey Wright taking the last spot in the bullpen and Roberto Hernandez assumed to be the fifth starter, here is the Rays' opening day roster and what the lineups could look like against righties and lefties…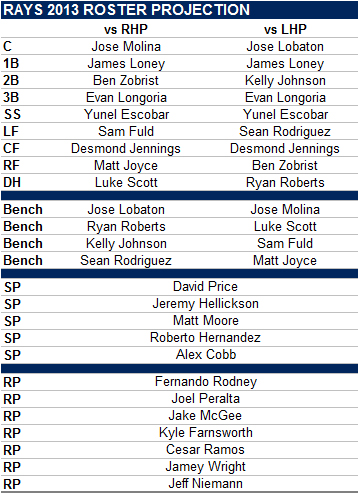 A few notes on the roster…
The biggest question marks in the lineup to start the season will be LF and DH. Sam Fuld seems like a no-brainer against righties in LF with Luke Scott at DH (when healthy). But what about lefties? Sean Rodriguez, Kelly Johnson, and Ryan Roberts will likely share 2B, LF, and DH against lefties. Johnson will probably be at 2B most often due to his familiarity with Yunel Escobar. That would leave LF for Rodriguez and DH for Roberts.
Things will get interesting when Wil Myers is promoted since he will likely be headed to RF. That would push Ben Zobrist back to 2B full-time and Matt Joyce will go to left field. At that point, either Sean Rodriguez or Ryan Roberts will likely be out of a job.  And by "out of a job" we really mean, "on the DL with a sprained left roster spot."
As we have pointed out before, Roberto Hernandez is the "fifth starter" but will not start the fifth game of the season. There has been some speculation that he would start third to break up Jeremy Hellickson and Matt Moore, both of whom struggle to get deep into games. But as of now, Hernandez is on pace to start the fourth game.
Likes

(

0

)
Dislikes

(

0

)