The graphic below has been around as it was first created at The Sports Design Blog back in 2011. But it is the first time I have seen it and it is an interesting look at how the Rays' colors fit within the color schemes of Major League Baseball.
A few things stand out…
The Rays are one of 20 teams that uses blue. They are one of three teams that uses two different shades of blue. 14 other teams use the Rays' dark blue. However, no other team uses both of the blues that the Rays use.
12 teams use red, and one-third of all MLB teams (10 of 30) use both red and blue.
Only the Rockies (purple), Mariners (teal), Brewers (gold), and White Sox (grey) have a color that is not shared with another team. However, it seems like a stretch to use grey for the White Sox and not white. But as you can see in the diagram, it would have been tough to connect the black and white circles (the design is supposed to be a baseball diamond).
You can see similar diagrams for the NHL and the NFL at The Sports Design Blog, but it looks like they used silver as the Bucs second color instead of Pewter.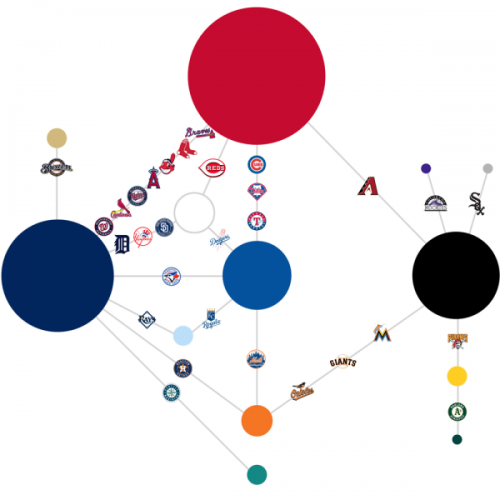 Likes

(

0

)
Dislikes

(

0

)