With the Rays and Kelly Johnson reaching an agreement on a free agent contract, let's take a look at what the opening day roster might look like based on players currently in the organization…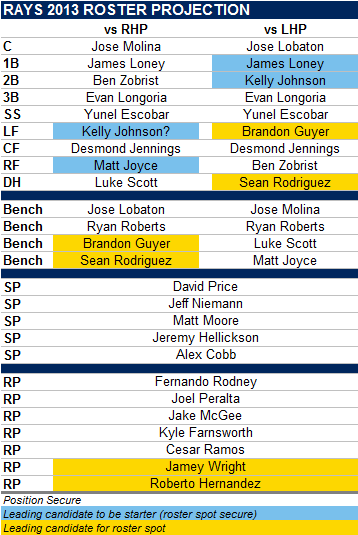 Here are the biggest questions that remain. And as always, you guys are my best editors, so if there is somebody or something I am forgetting, speak up…
Is James Loney a lock to be an everyday first baseman? The lack of right-handed bats on the roster suggests that he will be.
Where will Kelly Johnson play and how often? Ken Rosenthal says he will be a utility player. But that could just mean the Rays are entering this with an open mind. Second base against lefties seems like a near-lock. But what about righties? Left field or center field (with Desmond Jennings playing left)? That's possible but seems like a stretch. But other than that, where does he fit in the lineup the other 100 games (against RHPs)?
Who is playing left field? Let's assume Desmond Jennings moves to center field (something that is not guaranteed). Brandon Guyer is the only other right-handed outfield bat. But what about against righties? Sam Fuld would be the obvious choice. But if he makes the roster, that means either Brandon Guyer or Sean Rodriguez is an odd-man out. But if those guys don't make the roster, that leaves a hole in the lineup against lefties.
Who is DHing against lefties? If Brandon Guyer is playing in the outfield against righties, that leaves Sean Rodriguez as the only other right-handed bat, as scary as that sounds.
Who is on the bench? At this point it looks like the final two spots on the roster will come from the four-some of Brandon Guyer, Sam Fuld, Sean Rodriguez, and Elliot Johnson. It seems hard to believe that Guyer would make the team over Fuld, but Guyer's right-handed bat can't be ignored on this roster.
Who will fill the final spots in the bullpen? I give the edge to Jamey Wright and Roberto Hernandez. Also in the mix is Alex Torres, Dane de la Rosa, and Brandon Gomes.
Where does Will Myers fit into this mess? The easy answer is "anywhere he wants when he's ready." But recent moves by the Rays does suggest that the Rays are preparing to play the majority of the season without Myers. That doesn't mean he won't be called up in May or June. But it feels like the Rays are just going to assume he won't be ready, and if he is, he will be a bonus.
Likes

(

0

)
Dislikes

(

0

)