With the signing of James Loney and the trade for Yunel Escobar, the opening day roster is starting to come together, and the number of spots eligible for upgrade are starting to dwindle. Here's a look at what the roster might look like if the season started today. Notes on the projection are below…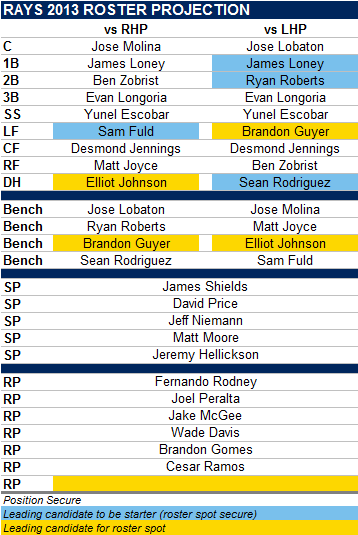 LINEUP: With the addition of Yunel Escobar, it now looks like Ben Zobrist can back to playing second base versus righties and right field versus lefties with Ryan Roberts and Matt Joyce playing the other two spots in that menage-a-platoon. If you are looking for spots where the Rays can still upgrade the offense, the most likely spots are left field, where Sam Fuld and Brandon Guyer are penciled in, and DH, where everybody is penciled in. A Luke Scott-Alfonso Soriano mix at DH and in the OF would look nice.
BENCH: Two of the spots are spoken for with one-half of the catcher platoon and one-third of the RF-2B mix. The other two spots depend on what happens in the lineup, but Sam Fuld and Sean Rodriguez  are the most likely candidates.
ROTATION: Obviously this depends on whether or not somebody is traded. If somebody goes, Alex Cobb is the most likely addition although you can make a strong case for Chris Archer.
BULLPEN: With the trade of Burke Badenhop, it would appear that six of the seven spots are spoken for. There has been some talk of bringing back Kyle Farnsworth or JP Howell, but neither seems likely. More likely it will be some free agent that nobody else wants and comes in on a cheap contract.
Likes

(

0

)
Dislikes

(

0

)