This "projected roster" is not what we expect the Rays to look like on opening day. Rather, this is what the roster might look like if the 2013 season started today. In other words, we are just considering players currently in the organization, and are using this as a way to gauge where changes may happen.
Here is the projection. Players in yellow are the most likely to be replaced through trades and free agency. Notes on the roster can be seen below…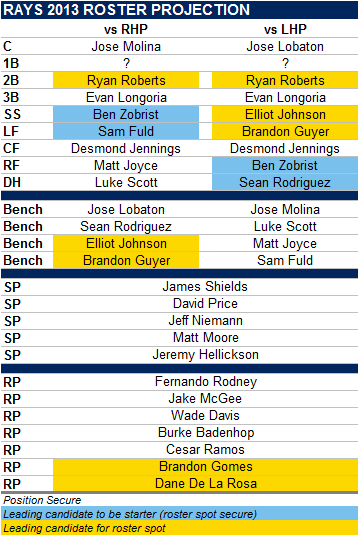 A Few notes on this roster…
LINEUP
I am assuming that the Rays will pick up the options on both Jose Molina ($1.8M) and Luke Scott ($6.0M).
The biggest question mark is first base. The Rays could always bring back Carlos Pena, but he would have to take a big pay cut ($7.25M in 2012) and expect a reduction in playing time.
The Rays will look to add a fourth outfielder-type, but I think they will be content with a Sam Fuld-Brandon Guyer platoon in left field. Keep in mind, the Rays think Fuld is just as valuable defensively as a good bat.
Another big question is shortstop. Do the Rays want to play Ben Zobrist at short? Probably not. But they also know they can, so at this point, he gets the nod there by default. And nothing suggests the Rays are ready to play Matt Joyce everyday, so that means Zobrist will likely be in right versus lefties.
At second base, is Ryan Roberts ready to be the most-days guy or will Sean Rodriguez see significant playing time?
FREE AGENTS LOST: Carlos Pena, BJ Upton, Jeff Keppinger
OTHER PLAYERS TO CONSIDER: Reid Brignac (out of options), Chris Gimenez (likely in AAA), Robinson Chirinos (missed all of 2012), Stephen Vogt (screams 26th man), Ben Francisco
ROTATION
Of course, these five spots depend on if and when somebody is traded. If that happens, Alex Cobb will be in the mix. I still think Jeremy Hellickson is the most likely to be traded as he represents the right mix of peaking talent and price other teams may be willing to pay. I just can't see anybody offering up the right package for James Shields and expect him to be back in 2013.
BULLPEN
As usual, this area is somewhat of a mystery and the Rays have a penchant for finding diamonds in the rough. The top five seem like locks. Joel Peralta says he wants to come back and that could happen. But I also think the Rays are perfectly happy with Jake McGee and Wade Davis in the 7th and 8th innings with Burke Badenhop as the groundball specialist and Cesar Ramos as the long reliever.
That leaves two spots. Brandon Gomes and Dane De La Rosa seem like the most likely guys at this point. But they would also be the first guys out if relievers are added to the roster.
FREE AGENTS LOST: Joel Peralta, Kyle Farnsworth, JP Howell
OTHER PLAYERS TO CONSIDER: Josh Lueke, Alex Cobb, Chris Archer, Alex Torres, Alex Colome, Ryan Reid
Likes

(

0

)
Dislikes

(

0

)