With just two weeks until opening day, the Rays opening day roster is nearly set. Let's take a look (notes on the projection are below)…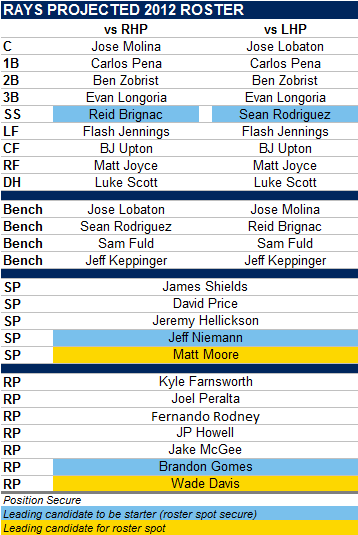 A few notes on this projection…
LINEUP: Obviously Joe Maddon will still play matchups this season, but SS and C would appear to be the only natural platoons. Ben Zobrist will get an occasional start in RF, but he has been used almost exclusively at 2B this spring. And Matt Joyce has received the bulk of the playing time in RF. Also, Jeff Keppinger will get an occasional start at 1B against a tough lefty. The only real questions left would appear to be injuries. Will Reid Brignac start the year on the DL? Same goes for Luke Scott. 
BENCH: Outside of the two platoons, the final two bench spots will almost certainly be Sam Fuld and Jeff Keppinger. If Reid Brignac starts the year on the DL, Elliot Johnson will make the team. If Luke Scott is not ready to go, that will open the door for Jesus Feliciano, Matt Mangini, or Will Rhymes to make the squad.
STARTING PITCHER: If Wade Davis pitched well this Spring, we would not have been surprised if Matt Moore was given a handful of starts in AAA to start the season. But Davis has struggled and it will be hard to justify not having Moore in the rotation from Day 1. There is still an outside shot that Jeff Niemann is traded which would re-open the door for Davis.
BULLPEN: If Wade Davis is not in the rotation and he is not traded, things suddenly get very crowded in the bullpen. The top 5 are locks. Although, if Jake McGee didn't make the team, it wouldn't be the most shocking development ever. Brandon Gomes would be a lock if he was 100%. If he starts the year on the DL, the final spot will go to Cesar Ramos, Josh Lueke, or Burke Badenhop, with Lueke being the longest shot.
Likes

(

0

)
Dislikes

(

0

)