With the signing of Luke Scott, it appear that the only position that is still in doubt is first base. And with Johnny Damon now unlikely to return, we will have one less familiar face on the roster come April.
In fact, if we look back to the miracle run of 2008, there are only four players still on the roster from that opening day squad. And one of those players, Elliot Johnson, was just filling in for an injured player and played in just seven games that season.
So let's take a look at the opening day rosters for the Rays three playoff teams and how they compare to the projected 2012 roster…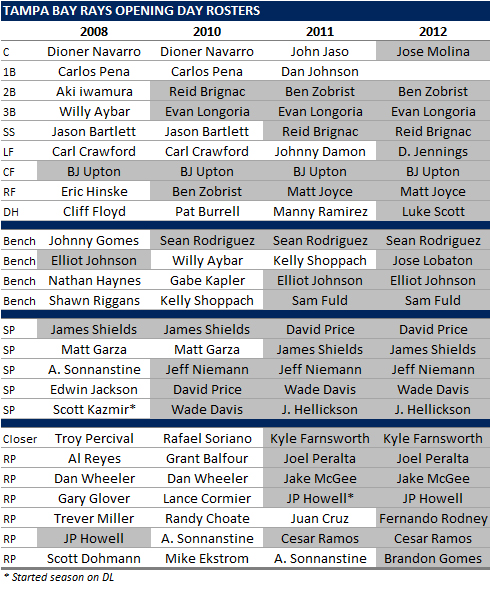 A couple of things stand out to us…
BJ Upton is the only regular player that has been with the team since 2008.
The rotation, the strength of this team, has been remarkably stable the last few years. And the only change (Matt Garza) was made out of excess.
While the bullpen got a complete overhaul last year, this season, quite a few names will be back. In fact, 10 of the 12 pitchers on the opening day roster last year, will likely be back this year.
Likes

(

0

)
Dislikes

(

0

)