With the addition of Carlos Pena, the Rays 25-man roster is now nearly set, barring any trades. And really, we don't see a lot of jobs up for grabs in spring training.
Let's take a look…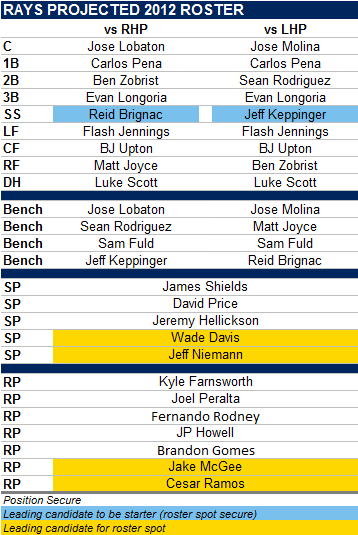 A few notes on this projection…
Barring a trade, the 13 positions spots seem set to us. Can you make a case for Elliot Johnson? Or maybe you think Robinson Chirinos has a shot to beat out Jose Lobaton for the second catcher's position? Seem like long shots to us.
The only question we see with the hitters is determining who will play shortstop. Our belief is that, unless there is a bat that is clearly superior on an everyday basis, Reid Brignac will be the shortstop versus righties. His wOBA was 100 points higher in 2010 than in 2011 and he will be given a shot to get back to that level. Against lefties, we see Jeff Keppinger at shortstop and Sean Rodriguez at second base. But you could easily flip-flop their positions.
We put question marks next to Wade Davis and Jeff Niemann because we feel the recent signings (Carlos Pena, Luke Scott) tell us the Rays are going for it in 2012. That means James Shields is not going anywhere and if somebody is moved to make room for Matt Moore it will be The Giraffe or Big Dub. The Rays could send Davis to the minors, but that seems unlikely.
Josh Lueke and Burke Badenhop have the best shots at crashing the bullpen party. But it might take a monster spring training to beat out Cesar Ramos or Jake McGee.
Likes

(

0

)
Dislikes

(

0

)