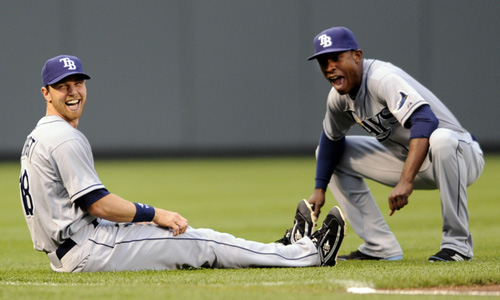 With the Rays picking up the options on James Shields and Kyle Farnsworth, and declining the option on Kelly Shoppach, the Rays have made their first significant moves of the off-season. But unlike last winter, this Hot Stove season could see far fewer changes to the roster.
Keep in mind, this "projected roster" is not what we expect the Rays to look like on opening day. Rather, this is what the roster might look like if the 2012 season started today. In other words, we are just considering players currently in the organization, and are using this as a way to gauge where changes may happen.
Here is the projection (players in blue are the most likely to be replaced)…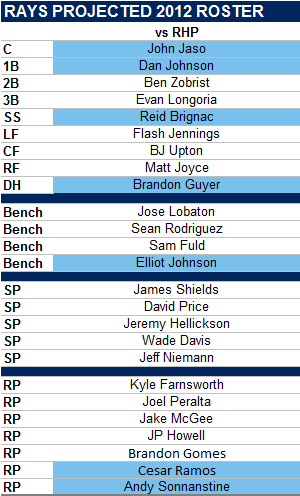 A Few notes on this roster…
LINEUP
First base and designated hitter are the two most glaring needs. We would be surprised if either position is filled by players currently in the organization. And who fills those holes depends greatly on how much money Stuart Sternberg gives Andrew Friedman to spend.
As it stands right now, the two catchers would be John Jaso and Jose Lobaton. But the Rays could also bring back Kelly Shoppach or add somebody from outside the organization.
At shortstop, Sean Rodriguez figures to see a lot of playing time, but he probably won't be the everyday guy. Reid Brignac needs to show some dramatic improvement, or he will be headed to the bench.
BENCH
Unlike most off-seasons, the Rays bench looks nearly set. Jose Lobaton and Sean Rodriguez should see extensive playing time. Sam Fuld is an ideal fourth outfielder (good glove, good speed). Elliot Johnson offers position flexibility, but he could potentially be replaced by Reid Brignac (if he is not starting) or a right-handed bat with a little more pop (Justin Ruggiano, Brandon Guyer).
ROTATION
Look for the same five to fill these spots at the start of the 2012 season. Of course this depends on how the Rays handle James Shields, but our gut says he will be back and Matt Moore will be in the minors. If we had our way, the Rays would use Shields and Moore and move either Jeff Niemann or Wade Davis to the bullpen or another team. If the Rays want the best roster, Moore is in the rotation. If they want to play service time games, Moore will be in the minors.
BULLPEN
Unlike last winter, most of the spots in the 'pen are already spoken for. You can make a case that the top five spots are already set in stone. And Cesar Ramos would also appear to be close to a lock. That leaves one or two spots that could be filled through free agency. Two guys that will get a long look in spring training are Dane de la Rosa and Matt Bush. But it is unclear if the Rays think either is ready.
Likes

(

0

)
Dislikes

(

0

)