Ok, let's discuss the roster…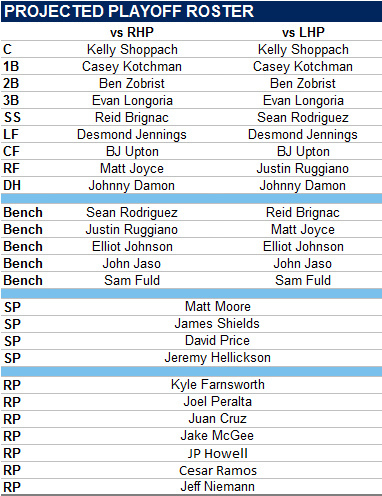 A few notes…
LINEUP: The lineup seems pretty straight forward unless you can make a case for Jose Lobaton over John Jaso. We do know that Brandon Guyer did not make the trip to Texas even though he has been starting in right field versus lefties recently. Does that mean Justin Ruggiano will start versus lefties, or will Ben Zobrist move to right field with Sean Rodriguez moving over to second base? Zobrist hasn't started in right field since August 23.
ROTATION: This is the big question mark. We know James Shields will start game 2 and David Price will start game 3. But takes the ball tomorrow? Joe Maddon was clearly saving Matt Moore for a potential one-game playoff. So why not use him in game 1? That leaves Jeremy Hellickson for game 4. Of course, we wouldn't be surprised if Davis or Niemann goes in game 1 and Moore is in the bullpen while the fans get an upset stomach.
BULLPEN: It would seem that the first five spots are locked in. That leaves two spots for Cesar Ramos, Brandon Gomes, and whichever starting pitchers are not in the rotation. The Rangers have fairly even splits versus righties and lefties. But Joe Maddon may choose to take the extra lefty to try to neutralize Josh Hamilton.
Likes

(

0

)
Dislikes

(

0

)