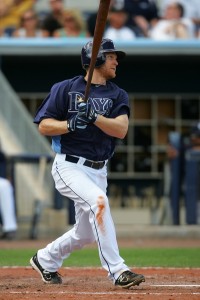 Yesterday, the Rays demoted two relievers, Rob Delaney and Cory Wade. And today, seven more position players were reassigned, including Casey Kotchman, Felipe Lopez, Joe Inglett, Chris Carter, Ray Olmedo, Craig Albernaz and Justin Ruggiano.
[Update] The Rays have also reassigned Jose Lobaton.
SEE THE UPDATED OPENING DAY ROSTER AT THE END OF THIS POST

These moves confirm what we have expected for a while…
John Jaso must be fine with Jose Lobaton being cut.
With Kotchman being demoted, Dan Johnson will be the first baseman.
Elliot Johnson will be the Rays backup middle infielder and utility player now that Felipe Lopez has been reassigned.
Sam Fuld will indeed be the fourth outfielder.
Juan Cruz and Jake McGee will be in the bullpen and Cesar Ramos is likely to get the finally spot unless the Rays make a trade this week.
We will have to wait and see if Kotchman or Lopez received promotion promises. That is, the Rays may have promised to release either or both players if they are not in the big leagues by a certain date.
The Rays spring roster is now at 28 players, meaning three moves remain.
JP Howell to the DL.
Rule 5 pickup Cesar Cabral will most likely either be traded or returned to the Red Sox unless Andrew Friedman can come up with a sneaky way to circumvent the Rule 5 restrictions.
Jose Lobaton will eventually be reassigned to minor league camp unless John Jaso needs to start the season on the DL. Jaso did play in a minor league game yesterday.
Juan Cruz still needs to be officially added to the 40-man roster.
Here is what the Rays opening day roster will look like barring any trades or injuries in the next six days. You can also see the updated spring roster at The Cork-Board (which is always found in the sidebar)…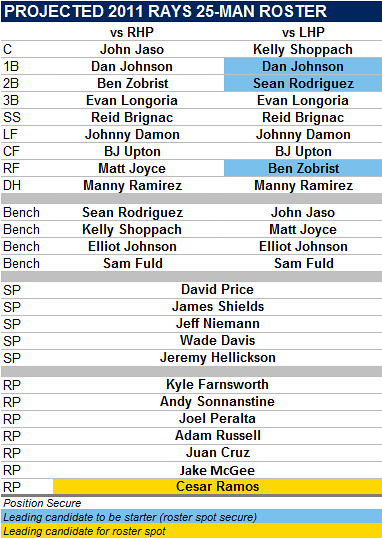 Notes on the roster…
The only question surrounding the most-days lineup is whether Dan Johnson starts at 1B against lefties, or if Joe Maddon is comfortable enough to throw Ben Zobrist out there right away. If Maddon is, look for Matt Joyce in right field.
Cesar Ramos is the only question mark in the bullpen because the Rays could still make a trade this week for another reliever.
Likes

(

0

)
Dislikes

(

0

)