With Spring Training set to begin this week, let's take a look at what the opening day roster might look like and some of the questions that remain to be answered…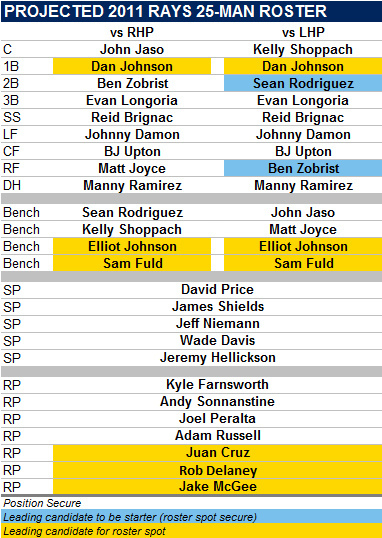 A few notes on the 25-man roster projection…
LINEUP:
There are three roster spots up for grabs. We are giving Dan Johnson the edge over Casey Kotchman, and we would be surprised if Andrew Friedman kept both players. That means Kotchman probably starts the year in the minors with the promise of being called up by a certain date or he will be granted his release.
If Johnson is in, that means the lineup versus righties is probably set. However, the lineup versus lefties could be fluid. Depending the on who the pitcher is, Joe Maddon must decide between Johnson at first base or Matt Joyce in right field. That decision will determine whether Ben Zobrist plays right field or first base. And based on Maddon's (lack of) confidence in Zobrist at first base, that could mean limited starts for Joyce versus lefties.
BENCH:
The other spots still in question are backup infielder and the fourth outfielder.
We still give the edge to Elliot Johnson over Felipe Lopez and Joe Inglett based on position flexibility, but none of those three would be a surprise.
In the outfield, Sam Fuld is close to being a lock. He even got some work in center field and right field this weekend. And while Joe Maddon has given Justin Ruggiano a long look this spring, he can be sent to the minors. Fuld cannot.
ROTATION:
Jeremy Hellickson appears to be healthy. So he should be in the rotation to start the year. However, there is a small possibility that the Rays keep him in the minors for the first week.
While it is rare for Joe Maddon to skip starters the first week, he doesn't need a fifth starter until April 9. If Maddon chooses that path, look for JoeMa to work with a five-man bench the first week. But that still doesn't help somebody like Felipe Lopez or Casey Kotchman. The Rays would likely prefer the final spot go to somebody already on the 40-man roster, so that they can easily be demoted a week later.
BULLPEN:
The relief corps will be led by Kyle Farnsworth, Andy Sonnanstine and Joel Peralta. Adam Russell is out of options so he is in. The Rays just lost Rule 5 pick Cesar Cabral, so he is no longer an option. And one of the spots will eventually go to JP Howell, but that might not happen until May.
For the last three spots, we see seven guys with a legit shot.
Based on how they have been used so far this spring, it looks like Juan Cruz and Rob Delaney have a little edge over the others. The final spot is looking more and more like Jake McGee.
Likes

(

0

)
Dislikes

(

0

)