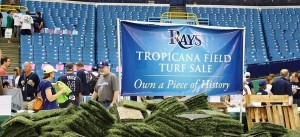 At FanFest on Saturday, the Rays sold one-foot-square pieces of the old turf that was replaced this off-season with all proceeds going to charity. If you couldn't make it, we have been told there will be other opportunities to purchase pieces of the turf, but that no definitive plans have been made yet.
We have spoken to a lot of people who picked up a piece on Saturday. But this left us wondering:
What do you plan to do with the piece (or pieces) of turf that you purchased?
We are really big into Do-It-Yourself projects, and we had a few thoughts…
Frame it, and hang it on the wall.
Cover an end table
Use it as a welcome mat
Use several pieces as the surface of a bar top.
Buy enough sections to carpet a room or patio (pricey at $3,600 for a 12'x12′ room).
But we are more interested in what you are planning to do. So let us know in the comments.
Likes

(

0

)
Dislikes

(

0

)