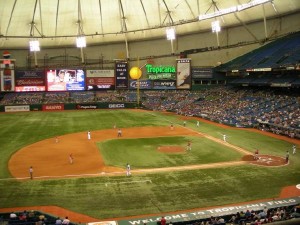 When we first broke the news that the Rays were considering a switch from FieldTurf to AstroTurf for the 2011 season, the Rays told us they were "studying the possibility of AstroTurf's offer." Well it turns out that the "offer" was too good to pass up.
How good? Free.
Robert Trigauz reports that the Rays and Blue Jays got their new fields for free. When Major League Baseball asked FieldTurf if they would make a similar offer, FieldTurf said "no thanks."
And now that 100 percent of the artificial turf fields in MLB are AstroTurf, it shows that 100 percent of the decision makers at FieldTurf are idiots. It was two fields! FieldTurf couldn't sacrifice turf for two fields to have the publicity of being the only turf of MLB? Idiots.
THE JUNKYARD DOGS WEBTOPIA…
Likes

(

0

)
Dislikes

(

0

)