With Spring Training set to begin this week, let's take a look at what the opening day roster might look like and some of the questions that remain to be answered…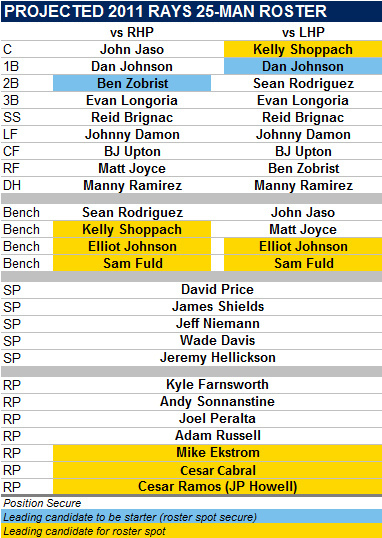 A few notes on the 25-man roster projection…
LINEUP:
Andrew Friedman said Elliot Johnson would share middle-infield duties with Sean Rodriguez and Reid Brignac, but with the addition of Johnny Damon, that probably pushes Ben Zobrist back into the mix and Johnson to the bench most days. As for Damon, until Joe Maddon says he is going to see regular playing time at first base, we are assuming he will be the left fielder most days.
We have also learned that Matt Joyce will only start against righties to start the season. And there are rumblings that Robinson Chirinos has an outside shot at beating out Kelly Shoppach for the second catcher spot.
The other big question remaining over the starting lineup is Casey Kotchman. Supposedly he is in great shape and his swing looks good. But is it enough to beat out Dan Johnson, or at least win a roster spot? If he does, look for Kotchman and Dan Johnson to share first base duties with the starter being a day-to-day decision.
BENCH:
If Casey Kotchman does win a spot on the roster, it does not necessarily mean Dan Johnson is out. If Zobrist is indeed back in the middle-infield mix, Elliot Johnson could be moved to make room for Kotchman. And even without Kotchman making the team, Elliot Johnson's spot will be challenged by Felipe Lopez.
With Justin Ruggiano recently removed from the 40-man roster, Sam Fuld appears to be a lock for the final bench spot. When the Rays signed Johnny Damon, Chris Carter's chances of making the team went from "slim" to "oh crap." And of course Fuld is just keeping the spot warm for Desmond Jennings who should make a mid-season appearance.
ROTATION:
Joe Maddon recently said in an interview that he expects Jeremy Hellickson to step right in and take Matt Garza's spot. So any thoughts of Andy Sonnanstine making a few starts in April, now seems unlikely.
BULLPEN:
What a mess. At this point, the relief corps will be led by Kyle Farnsworth, Andy Sonnanstine and Joel Peralta. The rest of the jobs will be filled by throwing about 10 names against the wall and hoping four will stick.
Adam Russell is out of options so he is in. Cesar Cabral was a Rule 5 pick, so he has to make the team or be sent back to the Red Sox. And one of the spots will eventually go to JP Howell, but that might not happen until June.
Other names with legit shots at the bullpen are Mike Ekstrom, Rob Delaney, Juan Cruz, Dirk Hayhurst and Cory Wade.
Likes

(

0

)
Dislikes

(

0

)