With the recent additions of Manny Ramirez and Johnny Damon, let's take a look at what the opening day roster would look like if the season started today…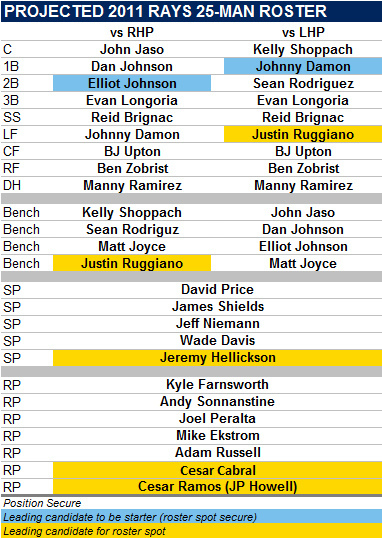 A few notes on the 25-man roster projection…
LINEUP: Elliot Johnson, Reid Brignac and Sean Rodriguez will share middle infield duties. The biggest question now is determining who will play first base. Johnny Damon, Ben Zobrist and Dan Johnson could all see time there. And who gets the bulk of the time could be dependent on whether Joe Maddon prefers Matt Joyce or Dan Johnson in the lineup more often.
BENCH: The final spot may come down to Sam Fuld and Justin Ruggiano both of whom are out of minor league options. With left-handed hitting outfielders Johnny Damon and Matt Joyce already on board, Ruggiano seems like the better fit, even if Fuld is the better talent.
ROTATION: With Matt Garza gone, his spot will go to Jeremy Hellickson, but when? We still wouldn't be surprised if Andy Sonnanstine is in the rotation the first couple of weeks.
BULLPEN: Five spots appear to be spoken for. Adam Russell is out of minor league options, so he is in. Cesar Cabral has to be on the opening day roster as a Rule 5 pick. But if the Rays pick up another relief pitcher before the season, the Rays may be OK with sending Cabral back. Also, look for Cesar Ramos to keep JP Howell's spot warm until he is back from the DL.
Likes

(

0

)
Dislikes

(

0

)