With less than a month until pitchers and catchers report, let's take a look at what the opening day roster would look like if the season started today…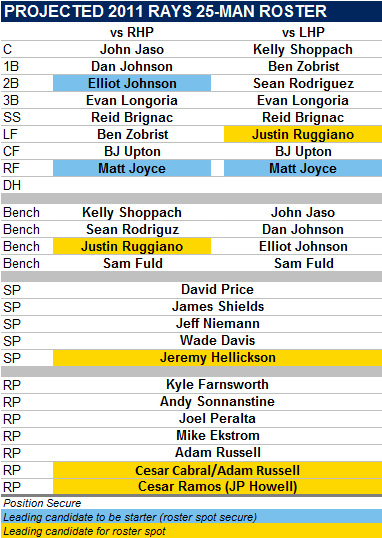 A few notes on the 25-man roster projection…
For the first time in six years, we are projecting two starting lineups. It only makes sense with Maddon's platoon mentality. As a result, we are projecting platoons at C, 1B, 2B and LF.
LINEUP: Andrew Friedman says Elliot Johnson, Reid Brignac and Sean Rodriguez will share middle infield duties. LF, RF, 1B and DH are wide-open right now. DH will be filled through free agency (Vlad Guerrero?). Dan Johnson will play some 1B, but who will be there against lefties? Justin Ruggiano is out of minor league options. Matt Joyce and Ben Zobrist will also see time in the outfield.
BENCH: Due to Joe Maddon's love of the platoon, the only true bench guy might be fourth outfielder Sam Fuld. Other possibilities for the bench are Chris Carter and Leslie Anderson. Both of those guys are at a disadvantage as left-handed bats when the Rays really need a right-handed bat or two.
ROTATION: With Matt Garza gone, his spot will go to Jeremy Hellickson, but when? We still wouldn't be surprised if Andy Sonnanstine is in the rotation the first couple of weeks.
BULLPEN: Five spots appear to be spoken for. Adam Russell is out of minor league options, so he is in. Cesar Cabral has to be on the opening day roster as a Rule 5 pick. But if Adam Russell is ready, the Rays may be OK with sending Cabral back. Also, look for Cesar Ramos to keep JP Howell's spot warm until he is back from the DL. And of course, this all changes if/when the Rays sign another relief pitcher (Jon Rauch?).
Likes

(

0

)
Dislikes

(

0

)