Yesterday we projected the 40-man roster and payroll. Now let's take a look at what the opening day roster would look like if the season started today…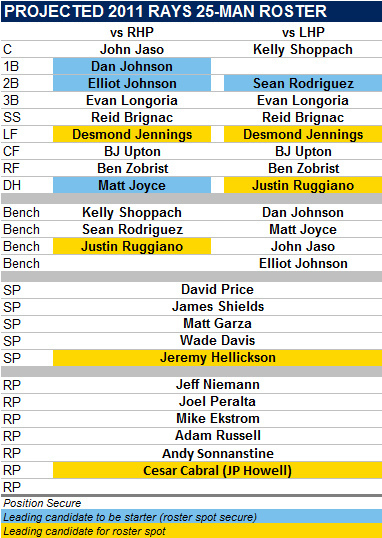 A few notes on the 25-man roster projection…
For the first time in six years, we are projecting two starting lineups. It only makes sense with Maddon's platoon mentality. As a result, we are projecting platoons at C, 1B, 2B and DH.
LINEUP: Andrew Friedman says Elliot Johnson, Reid Brignac and Sean Rodriguez will share middle infield duties. That leaves Ben Zobrist to play right field and possibly some first base. If Desmond Jennings is not on the opening day roster, look for Justin Ruggiano and Leslie Anderson to see playing time there. DH is wide open and could still be filled through free agency (Johnny Damon, Jim Thome?)
BENCH: We are giving Justin Ruggiano the edge over Leslie Anderson because Ruggy is out of minor league options and because Joe Maddon already has Dan Johnson and Matt Joyce as left-handed bats at 1B and OF.
ROTATION: If the Rays don't trade Matt Garza, and Jeremy Hellickson is on the opening day roster, look for Jeff Niemann to be the odd man out. Yes, he was a solid starter in 2010, but with his injury history, the Rays may want to limit the mileage on his arm.
BULLPEN: If we include Jeff Niemann, six spots appear to be spoken for. Adam Russell is out of minor league options, so he is in. Cesar Cabral has to be on the opening day roster as a Rule 5 pick. And as a lefty, he can take JP Howell's spot. What the bullpen really needs is a closer. The Rays won't spend the money to bring back Rafael Soriano (right?). So why not Jeff Niemann?
OPEN SPOTS: Based on this projection, the Rays still need to add a first baseman and a relief pitcher. There are several minor leaguers that could fill the final bullpen spot, but look for the Rays to sign one more cheap middle reliever.
Likes

(

0

)
Dislikes

(

0

)