It is no secret that the Rays are facing a huge roster overhaul this off-season. Just how big? Let's take a look at how much the roster has changed since opening day of the Rays' 2008 World Series team…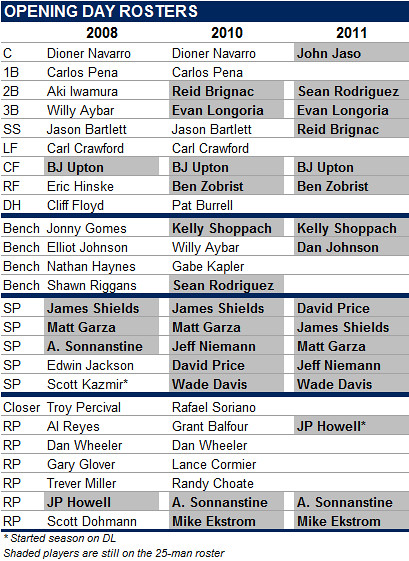 Most of the discussion this off-season has been about how Andrew Friedman must completely rebuild the bullpen. But look at the position players. If we assume that Jason Bartlett will be traded before opening day (he will be), then BJ Upton is the only hitter from the 2008 opening day roster that will still be on the active roster in 2011. Yes, BJ Upton.
There is a chance Willy Aybar and Elliot Johnson could be on the opening day roster in 2011, but neither is a sure thing. Aybar is currently a free agent and Johnson spent all of 2010 in the minors.
Meanwhile, JP Howell is the only reliever that remains from opening day, 2008 (we are assuming he re-signs with the Rays). And he will start the 2011 season on the DL after missing all of 2010. Andy Sonnanstine will also be back in 2011, but he was a starting pitcher in 2008.
And if we look at the 2010 opening day roster, we see that only 8 of the 20 non-starting pitchers will still be with the team in 2011.
With five starting pitchers returning in 2011, along with Evan Longoria, it is easy to think the Rays could still be a contender. But if the Rays aren't spending money to fill all the holes, this could be too many changes to overcome.
Likes

(

0

)
Dislikes

(

0

)